Best Spaghetti alla Puttanesca – CopyKat Recipes
Spaghetti alla Puttanesca is a delicious Italian pasta dish with tomato, olives, capers, anchovies, and garlic. The puttanesca sauce is quickly made in a pan and then tossed with spaghetti noodles.
This post contains affiliate links. As an Amazon Associate, I earn from qualifying purchases.
Why This Is a Recipe for Spaghetti Alla Puttanesca You Must Try 
While this may not be the Spaghetti Puttanesca that your nonna materna made for you, it is gosh-darn delicious. Is it the best puttanesca recipe out there? Well, you will just have to try it yourself and see. 
Three ingredients really stand out in this version that makes this version of spaghetti puttanesca worth making at least once. 
A significant change to this recipe is including chicken bouillon cubes. Now, combining chicken and anchovies may seem a little strange, but it works here. Since this recipe calls for significantly fewer anchovies than most versions, the chicken bouillon cubes add the right amount of umami flavoring to help balance out the other flavors.
Snow peas show up in this recipe as well. Yes, it is a departure from the ingredients in classic spaghetti puttanesca, but it's a delightful addition. While the snow peas don't add much flavor, they provide a dash of color and a nice texture if you don't overcook them. 
Perhaps the most controversial ingredient is the Parmesan cheese. While most Italians would be horrified at adding cheese to a dish with seafood, it isn't taboo in the US. If you feel it may offend a guest's taste, feel free to leave it out. 
What Is Puttanesca Sauce? 
Puttanesca sauce is an extremely popular fresh tomato sauce featuring garlic, black olives, capers, and usually anchovies. With the optional crushed red pepper flakes, it can be a bit on the spicy side, but based on the name, what else would you expect? 
So what about the name? Almost everyone has heard the rather lurid story of Spaghetti alla Puttanesca, meaning 'prostitute's spaghetti,' or something similar. The tale is something along the lines that this was the quickest meal that a busy working girl could cook between clients. However, that is probably not true. 
A more likely source for the dish's colorful name may be the phrase, "facci una puttanata qualsiasi," which means "make any kind of garbage." Legend has it that a waiter told a group of late-night diners that the restaurant was out of almost everything, so the diners asked the chef to 'make any kind of garbage,' and this was the dish that came out of the kitchen.  
Whatever is the origin of the colorful name, there is a very similar recipe from Campania called Aulive and Chiapparriell (Olives and Capers) that may have been the inspiration. 
Pasta Puttanesca Ingredients
To make this spaghetti pasta puttanesca recipe, you'll need:
Spaghetti
Olive oil
Butter
Onion
Garlic 
Diced tomatoes
Tomato sauce
Crushed red pepper, optional
Chicken bouillon cubes
Fresh basil
Anchovy fillets
Black olives or kalamata olives
Capers
Snow peas 
Fresh chopped Italian parsley
Parmesan cheese
The traditional anchovies are salted, but you can use the ones in oil. If you choose the salted anchovies, you need to remove the salt before cooking. You can rinse them under the faucet or try the additional classic step of soaking the anchovies in milk for ten minutes, draining, and then rinsing. 
How to Make Spaghetti alla Puttanesca
How To Make Puttanesca Sauce
To cook Spaghetti alla Puttanesca:
Boil a large pot of water with salt (lots of salt to make well salted water.
While the water is boiling, start your prep for the sauce by mincing the garlic, dicing the onions, chopping the snow peas into 1-inch sections, and slicing the black olives and anchovies.
Place a 1-quart saucepan or large skillet over medium heat.
Add butter and oil to the saucepan.
Wait for the butter to stop foaming, and add garlic to the saucepan. Stir the garlic for 20 to 30 seconds, then add the onions.
Cook until the onions sweat, about a minute.
Lift the saucepan from the heat to avoid splattering, and add the diced tomatoes, tomato sauce, and crushed red pepper flakes.
Return the saucepan to the heat and stir for about 10 minutes. 
While the sauce is simmering, cook the pasta as directed for al dente. Drain and keep. 
As the pasta is cooking, add the chicken bouillon cubes to the sauce. Continuously stir the sauce until the cubes dissolve.
Stir the sliced snow peas into the sauce. Cook for 2 to 3 minutes.
Finish the sauce with the sliced anchovies, sliced black olives, and capers. Stir to combine.
Serve the sauce over pasta with chopped fresh parsley and Parmesan cheese.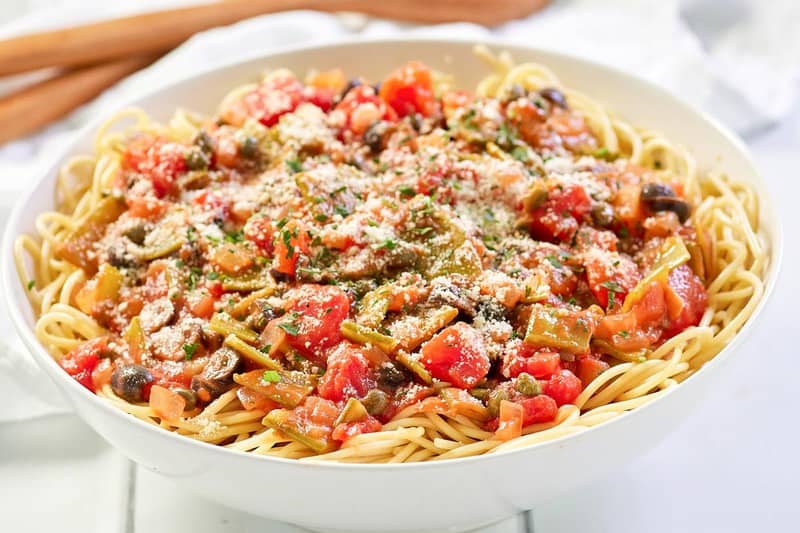 Recipe Variations
Feel free to substitute another type of pasta if you don't have spaghetti. Linguine or bucatini are excellent choices. 
What To Serve With Spaghetti Alla Puttanesca
The ingredients in this recipe work equally well with both juicy red wine and medium-body whites, so choose the one you prefer.
If you have Spaghetti alla Puttanesca as a main, a nice light garden salad and a big chunk of Italian bread or focaccia to sop up the sauce are appreciated.
If you are serving the dish as a traditional pasta course, follow with simple grilled meat or fish.
Storing Tips for Spaghetti Alla Puttanesca
It is best to use this sauce as soon as you make it, as it is considered a fresh pasta sauce. However, if you want to save time, you can prepare most of the sauce in advance and finish it right before serving. 
If you know, you won't be serving the sauce immediately, follow the directions until step 9. Once the chicken bouillon cubes dissolve, remove the sauce from the heat and cool it as quickly as possible. One way of doing this is by making an ice bath. Fill a bowl with ice and water. Place another bowl on top and pour the sauce into the top bowl. Stir the sauce until it cools. 
You can store the sauce in a covered container in the fridge for about five days, but the sooner you use it, the better. 
Although it is best not to freeze this sauce, it is possible. Transfer the sauce to freezer bags after chilling and keep in the freezer for up to three months. Let the sauce thaw in the fridge before using. 
When you want to make Spaghetti alla Putannesca, warm gently over medium heat and finish the sauce by continuing with the step for adding snow peas to the sauce.
Store pasta puttanesca leftovers in an airtight container in the refrigerator for up to 5 days. It is best to store the sauce separate from the pasta.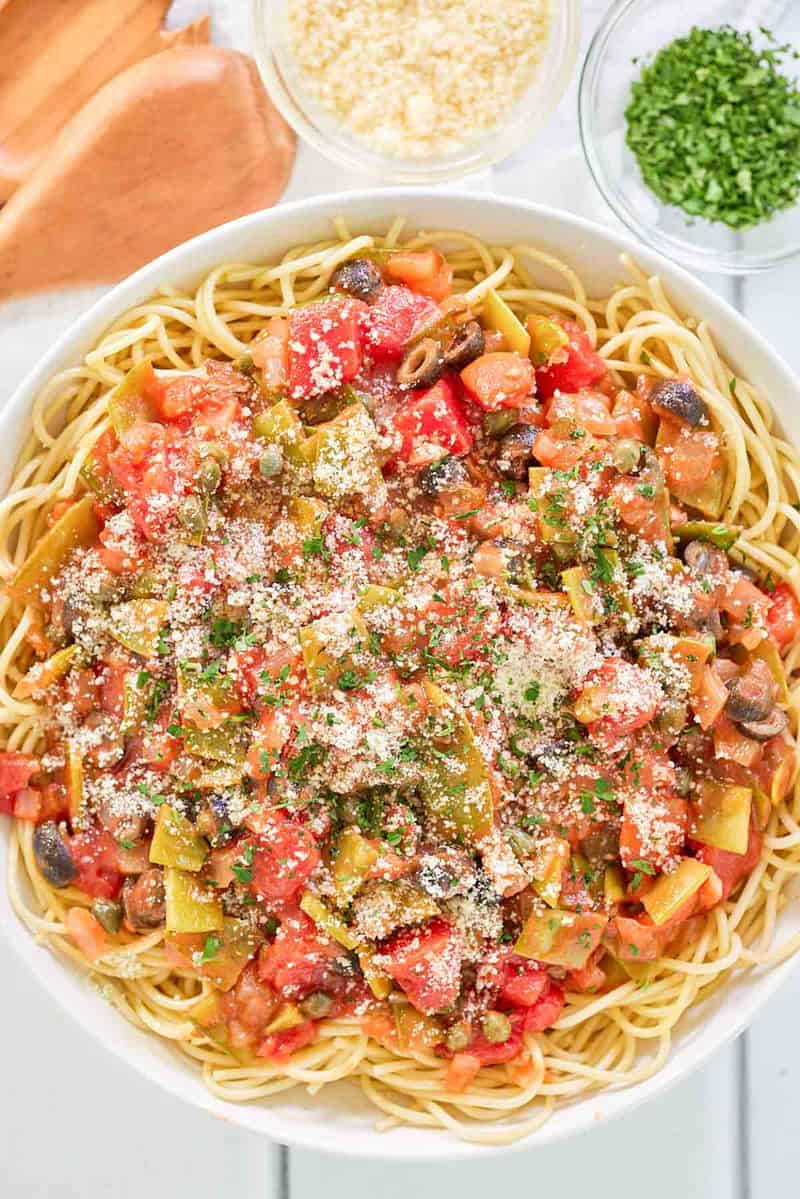 Love Italian Food? Try These Recipes
Popular Vegetarian Pasta Recipes
Check out more of my easy pasta recipes and the best Italian recipes here on CopyKat!
Thanks to Marina for sharing this recipe.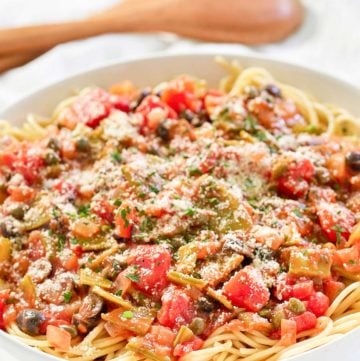 Spaghetti alla Puttanesca
You can enjoy classic Italian pasta puttanesca with anchovies, capers, and olives with this easy recipe.

Print
Pin
Rate
Add to Collection Go to Collections
Servings: 8
Calories: 337kcal
Ingredients
1

pound

spaghetti

3

tablespoons

olive oil

3

tablespoons

butter

1

cup

chopped onion

2

teaspoons

chopped garlic

14

ounces

diced tomatoes

8

ounces

tomato sauce

1

teaspoon

crushed red pepper

optional

2

chicken bouillon cubes

2

tablespoons

fresh chopped basil

3

anchovy fillets

chopped

3

tablespoons

sliced black olives

drained

2

tablespoons

capers

drained

1

dozen snow peas cut into 1-inch sections

2

tablespoons

fresh chopped Italian parsley

1/4

cup

Parmesan cheese
Instructions
Cook the spaghetti according to the package directions. Drain and set aside.

Place the oil and butter in a 1-quart saucepan over medium heat.

When the butter has melted, add the chopped onion and garlic. Cook until the onions are translucent.

Add the diced tomatoes, tomato sauce, and crushed red pepper. Stir to combine.

Add the bouillon cubes and chopped basil. Cover and cook for about 10 minutes.

Add the snow peas. Stir and cook for 3 minutes.

Add the anchovies, black olives, and capers. Stir to combine.

Serve over spaghetti and top with fresh chopped parsley and grated Parmesan cheese.
Nutrition
Calories: 337kcal | Carbohydrates: 48g | Protein: 9g | Fat: 11g | Saturated Fat: 4g | Cholesterol: 13mg | Sodium: 412mg | Potassium: 347mg | Fiber: 3g | Sugar: 4g | Vitamin A: 470IU | Vitamin C: 8.7mg | Calcium: 77mg | Iron: 1.7mg