Blueberry Lemon Mini Tarts – Honest Cooking Magazine
When life gives you blueberries, you have to make something delicious out of them. Like these blueberry lemon mini tarts.
This is a recreation of some passion fruit tarts I made too many summers ago. It seems like eons ago when I felt the warm gusts of wind against my bare face and sun-kissed cheeks. I was transported back to those magical carefree moments when I spotted punnets upon punnets of fat blueberries on the shelves of the local supermarket. I made the recipe almost exactly as I did back then, only replacing the passionfruit puree with freshly squeezed lemon juice.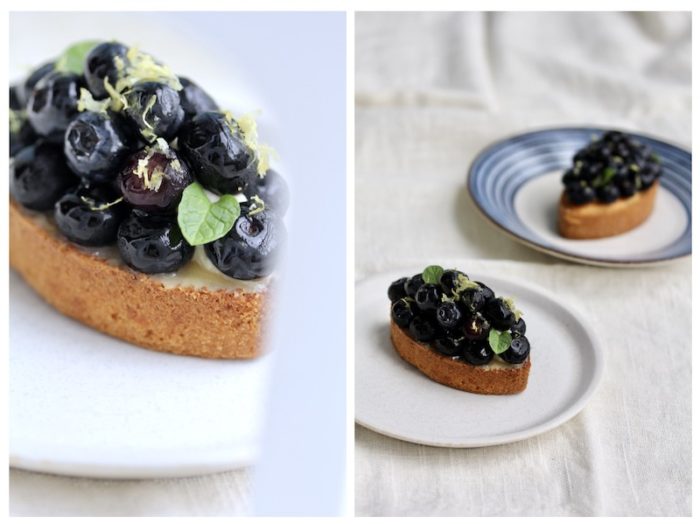 I also broke out my new oblong tart molds which I love to death because of how chic they make the finished product look. I'd like to think I've improved on my blueberry stacking skill as well – working with a smaller surface area and stacking them higher is key for the perfect looking hill.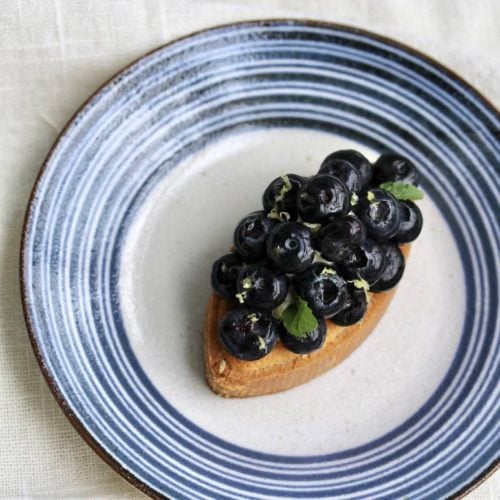 Blueberry Lemon Mini Tarts
Amanda Koh
Deliciously decadent, incredibly cute. What else can you really ask for, than these incredible tarts?
For the dough
7/8

cup

all purpose flour

3 3/4

tbsp

powdered sugar

1/8

tsp

sea salt

1/2

stick

butter

unsalted, cut into small pieces

1/2

large

egg yolk
For the curd
1/3

cup

sugar

1

large

egg

1

large

egg yolk

4

tbsp

lemon juice

1

stick

butter

unsalted, room temperature
For the cream cheese mousse
1/2

cup

cream cheese

1/3

cup

sugar

1/4

cup

heavy cream
Topping
1/2

lb

blueberries

1

packet

clear glaze

1

bunch

mint leaves

lemon zest from 1 lemon
Make the lemon curd:
Rub the lemon zest into the sugar until the sugar has moistened. Whisk in the egg, egg yolk and lemon juice. Heat over a pot of simmering water, whisking constantly, until the mixture has thickened and reaches 180F. Strain into a food processor or blender and let cool to room temperature. Refrigerate overnight.
Make the tart dough: 
Put the flour, powdered sugar and salt in a food processor and pulse to mix. Add the pieces of butter and pulse until the butter is cut in coarsely. Add in the egg and pulse to combine. Combine the dough into a ball, flatten, wrap with plastic wrap and refrigerate for a couple hours. Roll the dough out and press into the tart molds. Refrigerate for another couple hours.
Make the cream cheese mousse:
Beat the cream cheese and sugar together until smooth. Whisk the mixture until light and fluffy. In a separate bowl, whip the cream to soft peaks. Fold in the whipped cream into the cream cheese mixture in three batches, taking care not to deflate the whipped cream. Refrigerate overnight.
Assemble the tart:
Fill the tart shells with lemon curd and smooth the top with a spatula. Transfer the cream cheese mousse to a piping bag and pipe rows down the centre of the tart, with an extra row on top of the middle for height. Arrange the blueberries in a tight formation around the cream cheese and finish with a brushing of clear glaze (make according to instructions on packet), mint leaves and freshly grated lemon zest.