Classic Shrimp Scampi Recipe | Chef Dennis
My Classic Shrimp Scampi sauteed in olive oil and garlic butter finished with white wine and seasonings is easy to make and will rival the shrimp scampi your favorite Italian restaurant serves.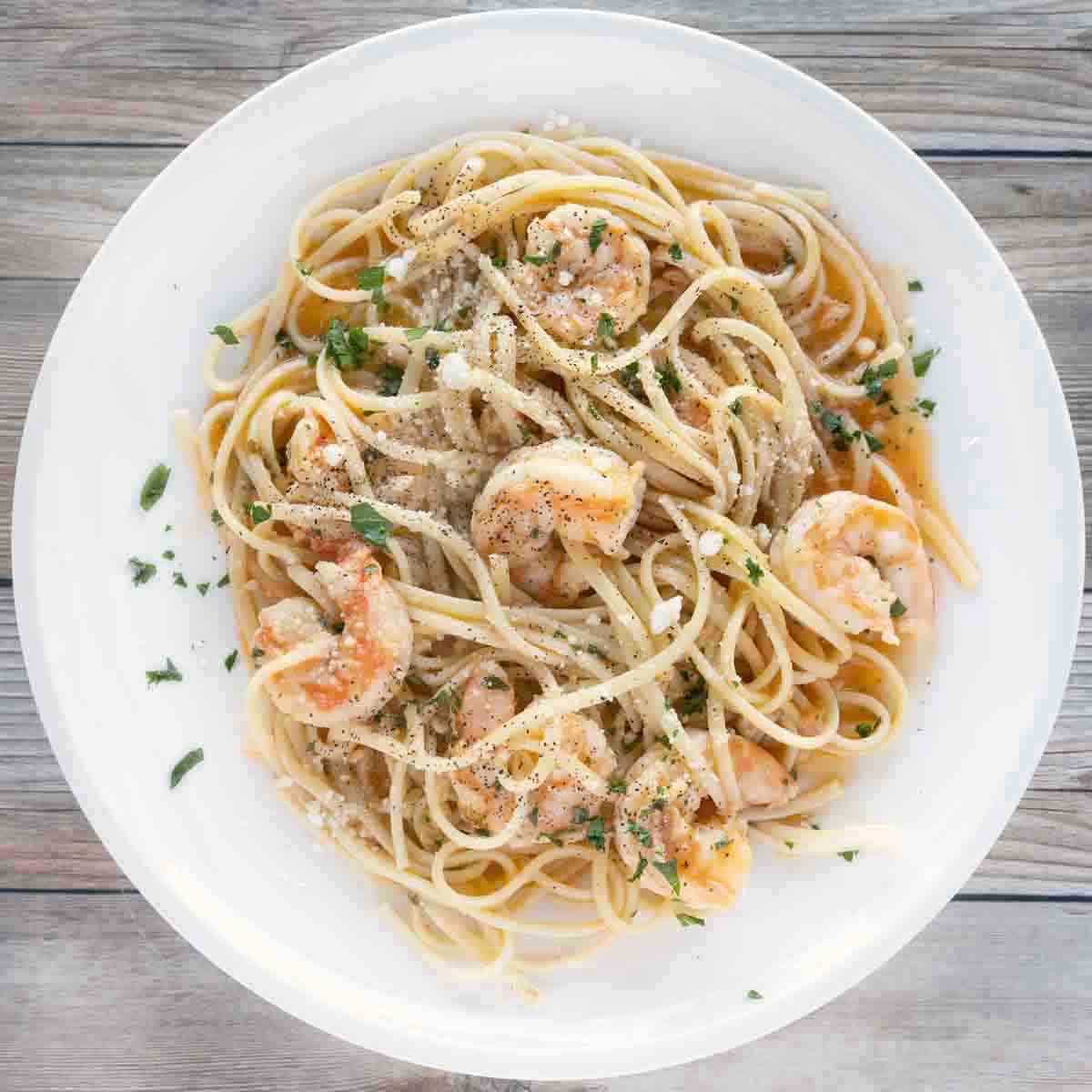 I've been served many versions of Shrimp Scampi and sadly many interpret this classic recipe poorly, and the overuse of garlic has ruined the dish. This delicious Italian-American dish should be based in a buttery garlic sauce.
If you love garlicky, buttery shrimp, my shrimp scampi dip is perfect for your next get-together or game day.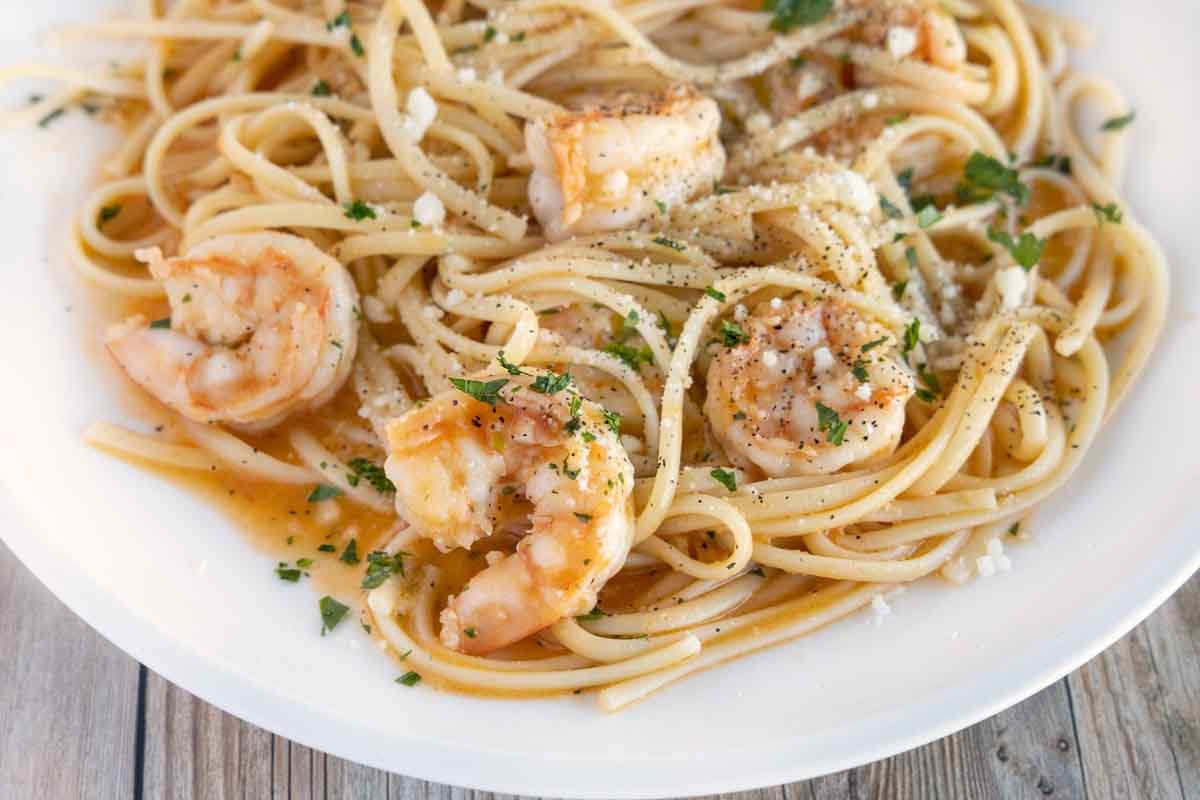 What you add at that point is up to you. Some add lemon juice and/or red pepper flakes to the scampi sauce. I have always enjoyed the Southern Italian method of adding a little marinara (or crushed tomato) to the dish, giving it a perfect balance of flavors to this classic recipe.
Just remember the trick is to balance the flavors and let the real star of this dish, the sweet succulent shrimp shine through the garlicky sauce.
Did you know that scampi in Italian means shrimp? So, basically, when you order this dish you're ordering shrimp shrimp.
Ingredients to make Shrimp Scampi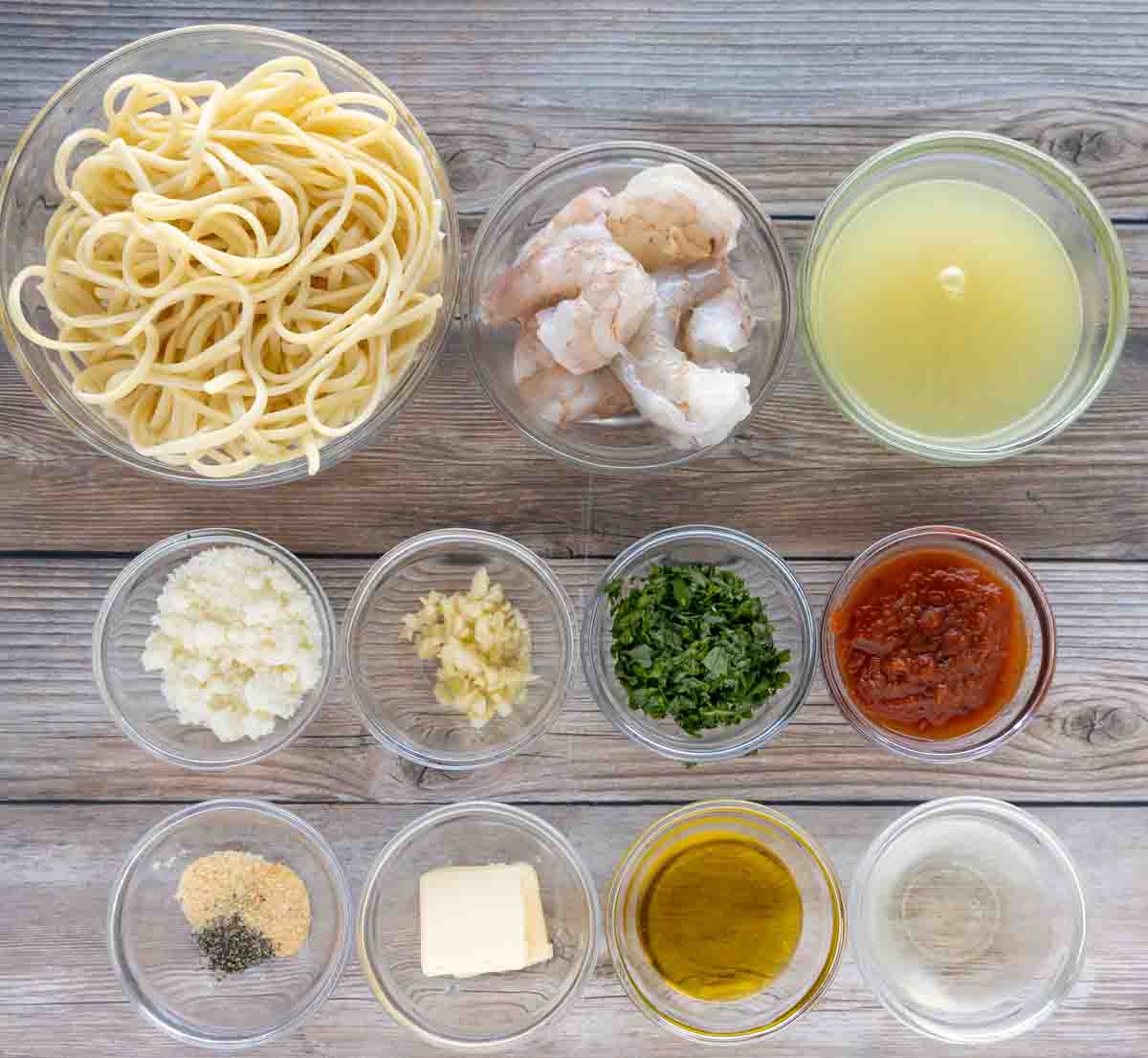 Let's start by gathering the ingredients we need to make my Easy Shrimp Scampi. In Chef Speak this is called the "Mise en Place" which translates to "Everything in its Place".
Not only does setting your ingredients up ahead of time speed up the cooking process, it also helps ensure you have everything you need to make the dish.
What Size Shrimp Should I use to make Shrimp Scampi?
I use Jumbo (16-20 count) or Large Shrimp (21-25 count) for this dish because they look better, and the larger shrimp won't overcook as easily. If you use smaller-sized shrimp, it would be a good idea to remove them after the first saute and add them back towards the end of the preparation so they don't overcook.
How to make Shrimp Scampi
Cook linguine al dente per directions on the package. When draining the pasta reserve ½ cup of the pasta water.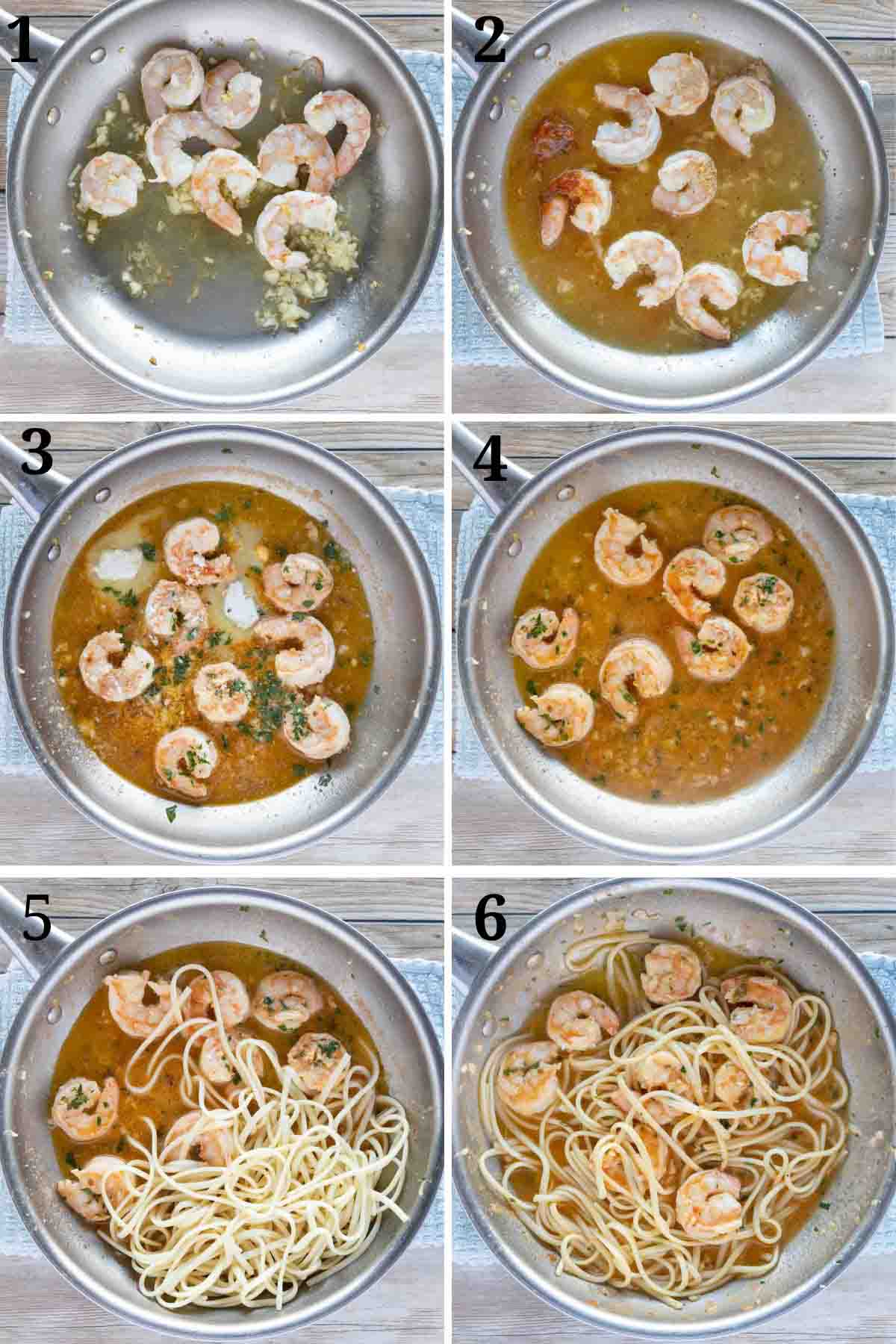 In a large skillet, melt butter with olive oil over medium heat. Then add the chopped garlic and shrimp to the pan. Sauté until shrimp are partially cooked, (1-2 minutes). *Be careful not to let the garlic burn.
Add wine to deglaze the pan. then add the chicken broth, marinara, garlic powder, onion powder and black pepper.
Add grated Romano or Parmesan cheese, fresh parsley and butter rolled in flour (beurre manie).
Bring the sauce to a quick boil. The sauce should thicken during this quick boil.
Reduce the heat to medium and add half of the reserved pasta water and the cooked linguine to the pan.
Toss the linguine in the sauce. If the sauce is too thick add the remaining pasta water or stock to the pan. (This dish can also be made with angel hair or spaghetti)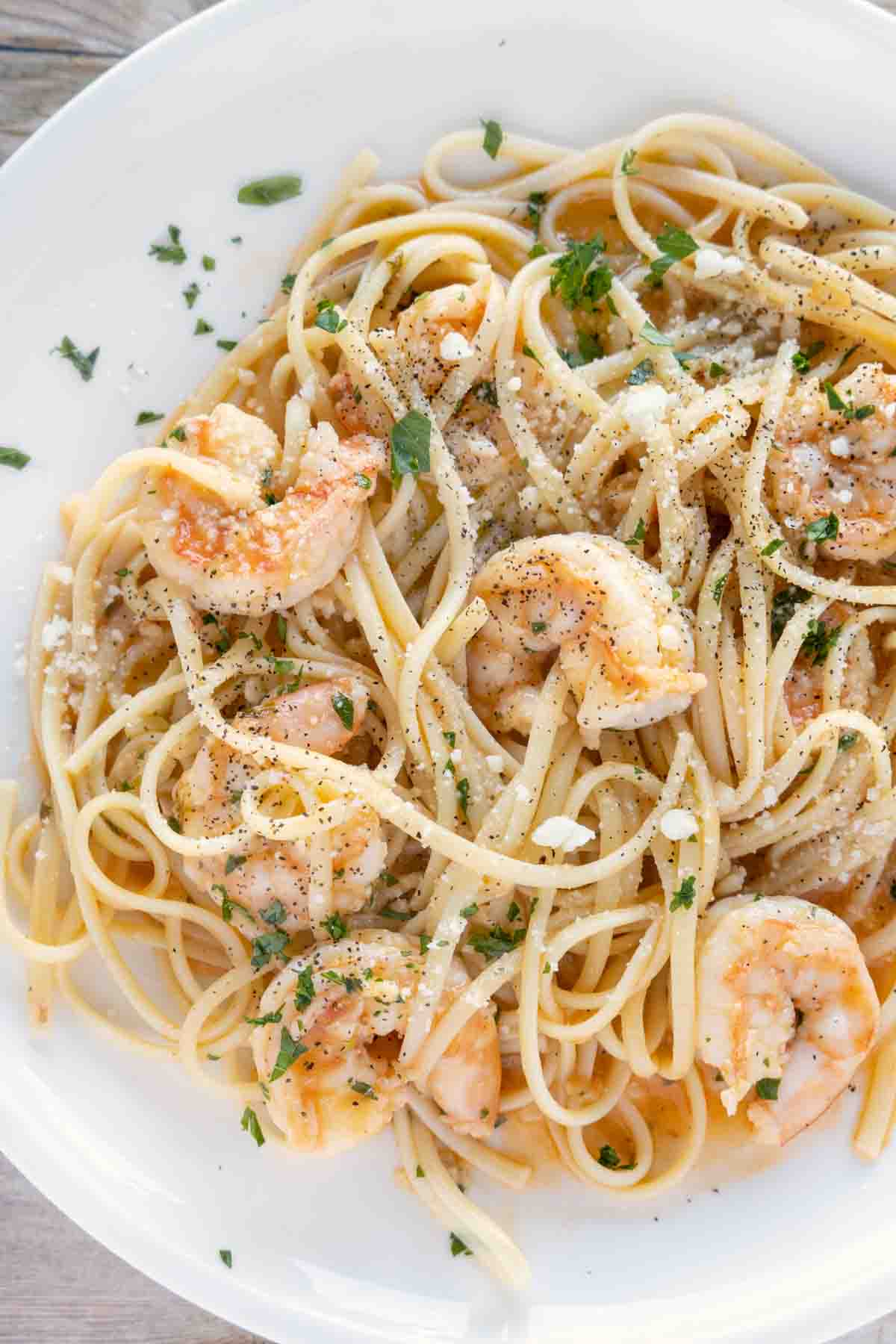 Serve up this delicious Italian-American Classic with a tossed salad and crusty bread and you've got a feast!
Recipe FAQ's
What makes a shrimp scampi sauce?
When it comes to basics, a scampi sauce is made with garlic, butter and olive oil. Anything else you add makes it one of the many varieties of scampi sauce. Other recipes can include lemon juice, red pepper flakes, tomato, or capers. It all depends on your tastes.
What does Scampi mean?
It Italian scampi translates into large shrimp or prawn. In Europe scampi can refer to a variety of shrimp.
How do I thicken a scampi sauce?
The best way to thicken pan sauces is using a beurre manie. Take a piece of butter and coat it well with flour, pushing the flour into the butter. The flour helps thicken and the butter adds flavor, it's a win-win.
More Shrimp Recipes You'll Love!