Flour Power: Pasta maker Sfoglini's commitment to local grains | Food & Cooking
Steve Gonzalez keeps an eagle eye over his pasta production line. Ruffled pasta shapes he calls "trumpets" stream from a glistening Italian-made pasta machine, each one a replica of the one before. The yellow trumpets glisten under the fluorescent lights and all-white factory walls, like a marching band line of cornets in the sun.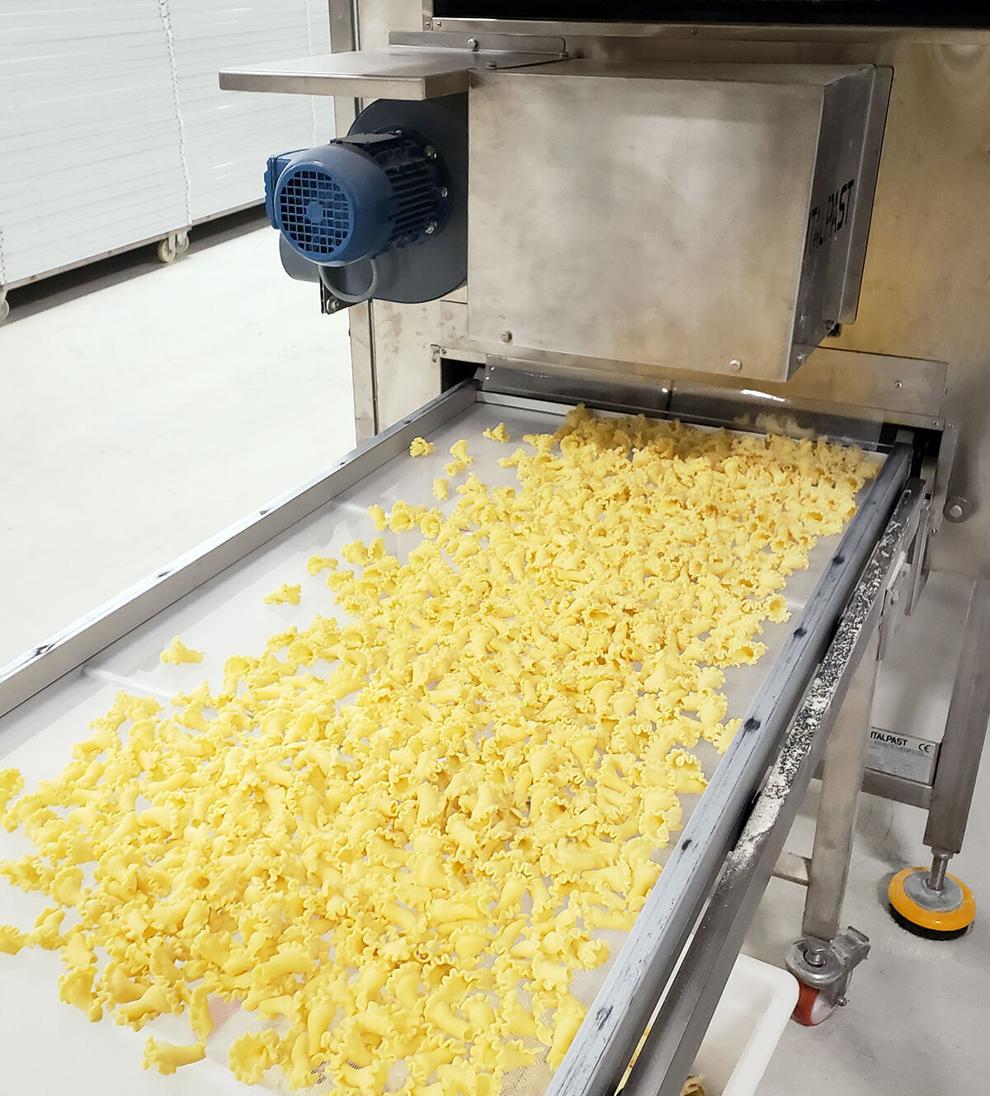 As the co-founder of Sfoglini Pasta (pronounced Sfo-LEE'-ny, meaning "pasta maker"), an artisan pasta company making nearly 1.5 million pounds of pasta annually, Gonzalez can spot a misshapen or errant piece of pasta from across the room. He directs his staff on the day's production schedule, all while monitoring racks of pasta preparing for a long, slow dehydration in a bank of ovens. He pinpoints even the smallest imperfection and pulls the pasta off the rack. To most people, what Gonzalez sees as a problem would be completely unnoticeable, but for him, being this attuned to pasta is in keeping with the Sfoglini mission.
"I worked for three years in Italy and spent a lot of time in Italian kitchens and got really drawn into pasta — fresh, handmade pasta. I was working in a restaurant in Sardinia where we extruded our own pasta, and that's kind of where that started clicking," Gonzalez says. He had been working as a chef since he was a teenager, but being deeply entrenched in Italian culture and the process of making pasta by hand sparked new enthusiasm for him.
He initially planned to open a restaurant, but the hefty price tag of starting a restaurant was a deterrent. Sfoglini, Gonzalez says, was supposed to be a restaurant that sold pasta to customers as well as to other restaurants, but "then you have to get investors and you have to raise money, and suddenly you're not in business for yourself anymore."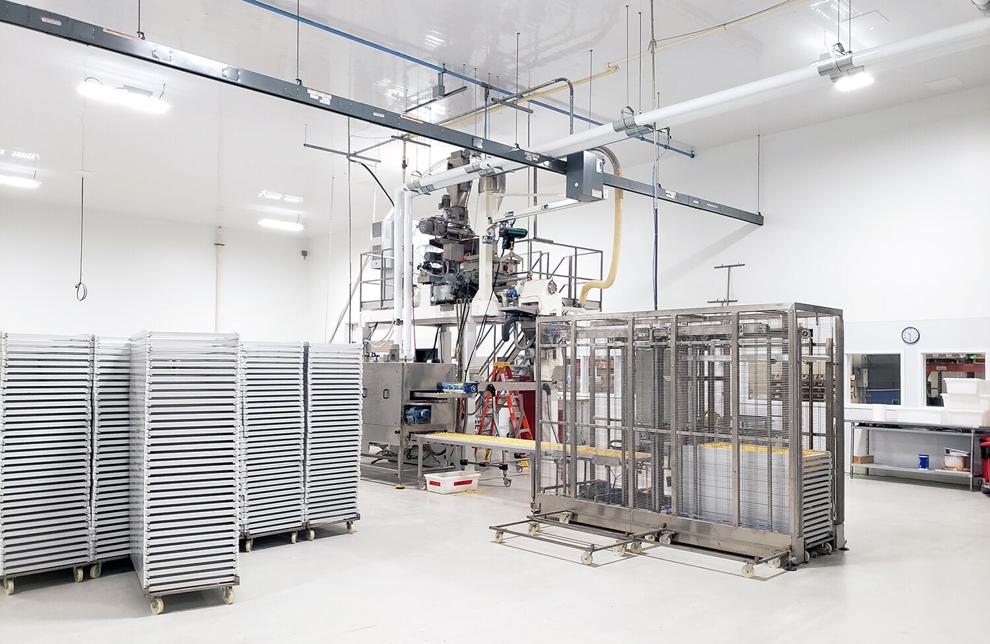 $30,000 and a dream
Gonzalez met his co-founder, Scott Ketchum, a decade ago. Ketchum's love of food (he and his wife were taking brewing classes around the same time he met Gonzalez) and background in graphic design offered unique potential for Gonzalez's ambitions.
"I was trying to make a change," Ketchum says. "I was a graphic designer and a creative director at a small agency at the time, and I was looking to get out of the agency world and do something different but still use my design skills in some way."
The artistic, geometric nature of pasta was appealing to Ketchum, and he had initially helped Gonzalez create a business plan for a restaurant. "That's when we saw the need for wholesale pasta instead. There wasn't really any American-made, premium-quality wholesale pasta at the time," Ketchum says.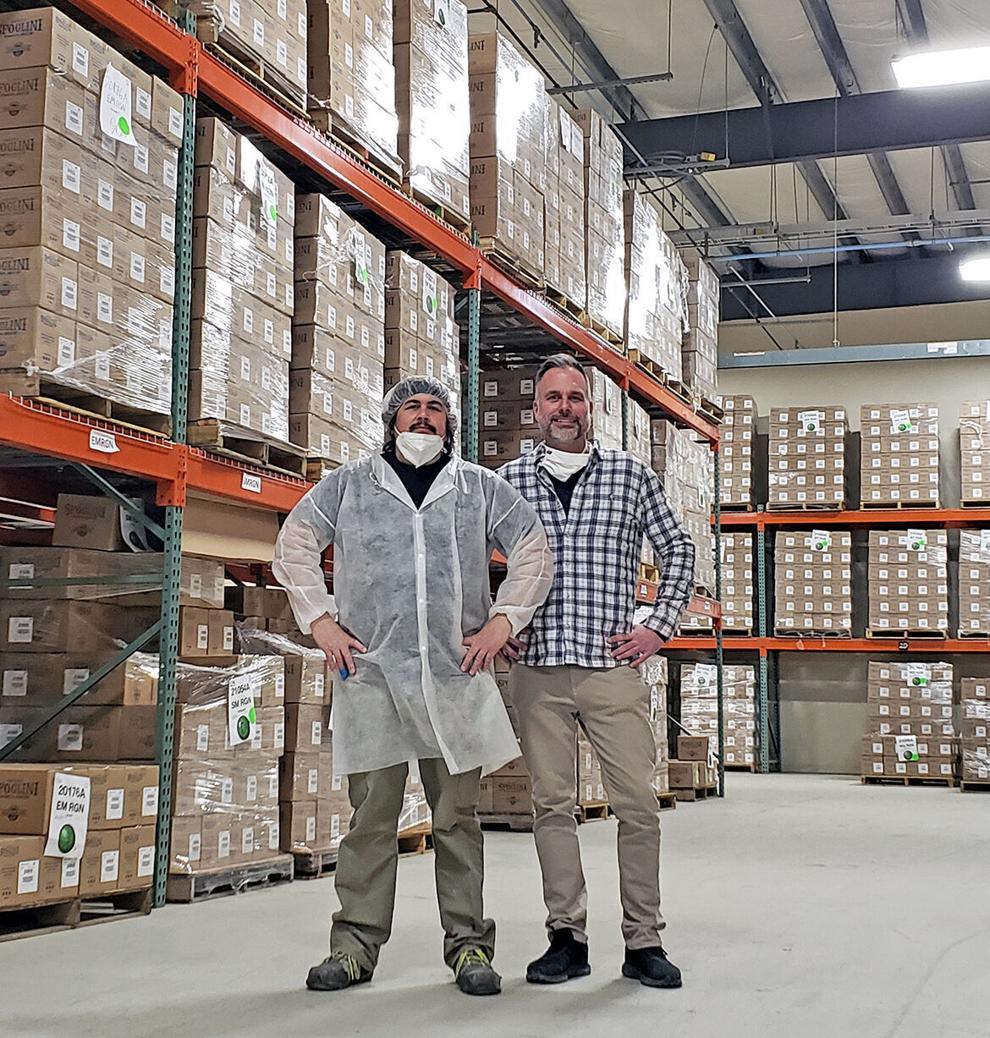 In 2012, the duo founded Sfoglini.
They started with a $30,000 personal investment, renting 500 square feet in the old Pfizer plant in Brooklyn to begin making fresh pasta. They rigged together a dryer from a walk-in cooler to produce their first rounds of dried pasta — the very item that the company is built on now — making 20 pounds of pasta an hour.
"I leveraged my restaurant contacts and were selling in New York, and then we had excess pasta that we started drying. We did the South Street Seaport Market, which was the first market we did with brown coffee bags. That was our first packaging. From that we got Bedford Cheese Shop, and then it kind of kept going," Gonzalez says. "We built the business selling to mom-and-pop shops." Gonzalez calls those smaller shops good customers because they are looking for a premium product and understand the costs associated with producing it.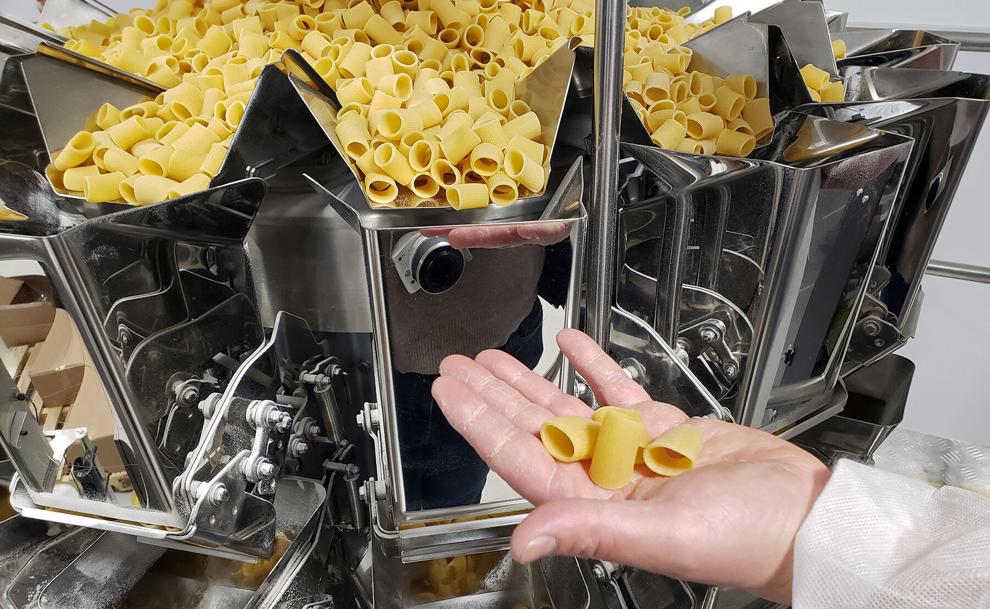 Growth spurts
Over the years, Sfoglini began to lease more space in the Pfizer building before eventually moving up the Hudson River to West Coxsackie, New York, to their current 37,000-square-foot building. "I came and looked at this place, and I called Scott and said, 'Yeah, this is the one,'" Gonzalez says.
They installed an Italian-made pasta machine that begins with a hopper for flour. The pasta line is semi-automated, adding water to highly detailed specifications and applying just the right amount of pressure against the custom bronze die for each pasta shape. Human contact is still critical for quality assurance, but the high-tech approach to the old-world, hand-rolled process helps Sfoglini produce large quantities of pasta.
Once the pasta is extruded, it goes through a pre-dryer, which helps set the pasta so that it holds its shape and form. The pasta is spread across multiple looms, which are stacked before starting the 10-hour drying process. Sfoglini dries about 6,000 pounds of pasta a day, a small fraction compared to large-scale commercial pasta producers.
After the pasta is dried, it is moved into the packaging room, where a pasta silo leads to what looks like an oversized space-age funnel. The funnel has a series of chambers and weights that allow for continuous pasta distribution into boxes, totaling 1,500 boxes of pasta packaged an hour.
"We've been to pasta plants that produce 200 million pounds of pasta a year to see how the behemoths do things to give us an idea of where we needed to begin," Gonzalez says.
From raw flour to sealed box, it takes 24 hours to make Sfoglini pasta. It is out of the warehouse within weeks.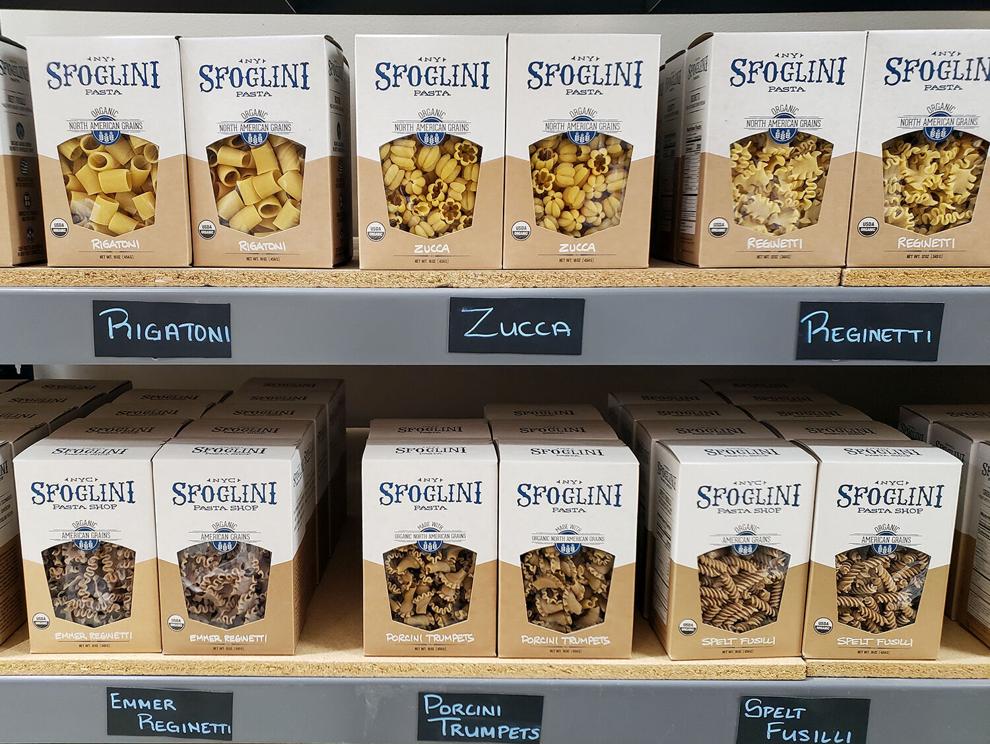 Local flavor, better nutrition
Flour is what sets Sfoglini apart from other pasta brands. Sfoglini uses 100% organic North American durum semolina in most products, which is a coarser flour with a gold hue. Other commodity pasta brands blend their durum flour with finer flours, which changes the texture from traditional handmade pasta. The company also experiments with everything from organic ancient-grain einkorn flour to hemp seed flours. 
"I wouldn't say it was in our business plan, but as soon as we started working with different flours and got our hands dirty working with everything, Steve really focused on wheats from the U.S.," Ketchum says.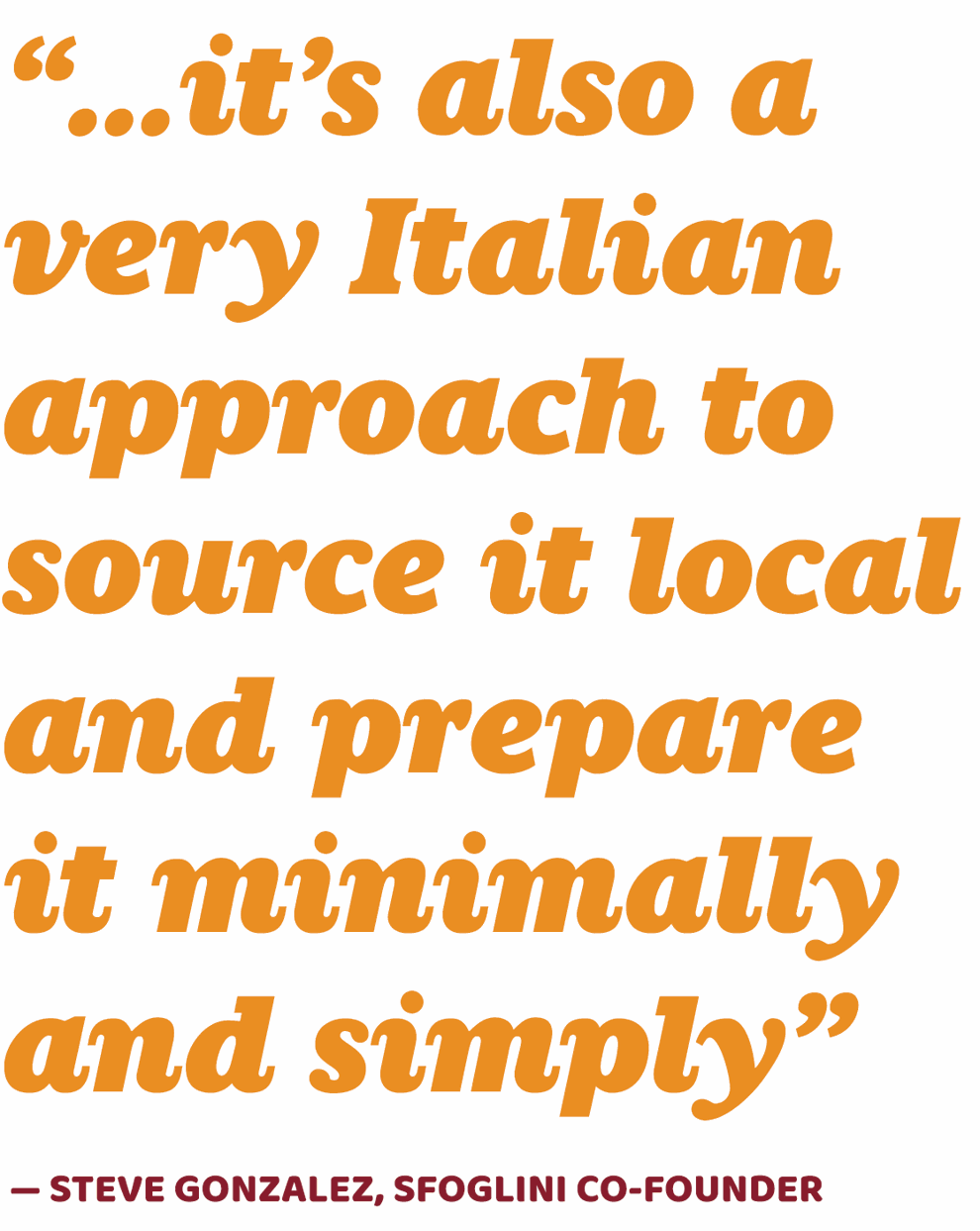 Gonzalez says his "chef approach" to sourcing ingredients drove him to think as locally as possible. "I think it's also a very Italian approach to source it local and prepare it minimally and simply," he says. Because durum semolina doesn't grow well in the Northeast, Sfoglini sources theirs from Italgrani USA headquartered in St. Louis, which aggregates their durum semolina from North American farms. Many specialty flours are grown and milled merely three hours away at Farmer Ground Flour in Trumansburg, New York, in the Finger Lakes region.
"They are such a great partner; it's been a seven-year partnership," Gonzalez says, adding that Farmer Ground Flour was open to adapting their milling practices to meet Sfoglini's needs and producing flours that worked well with the pasta extrusion process.
Sourcing from the regional foodshed is about more than just flavor for Sfoglini. Ketchum says that buying organic flours as close to home as possible meant reducing the carbon footprint of their process, as many companies ship American-grown flour to Italy to be milled and turned into pasta before importing it back into the U.S.
The minimal processing that Sfoglini's grains receive also keeps more nutritional value intact. "I always try to promote when I'm out at public events and trade shows that if you buy high-quality nutritional wheat, organic wheat, most people don't have the same issues they have with other grains. I just try to tell people that the staple of humanity's diet for 1,000 years is not all of a sudden evil in the last two years. Pasta can still be healthy and a great thing to include in your diet," Ketchum says, adding that supporting organic American farming maintains a sustainable agricultural system, which has become just as important to the Sfoglini mission as the pasta itself and helps differentiate the company from other dried pasta brands.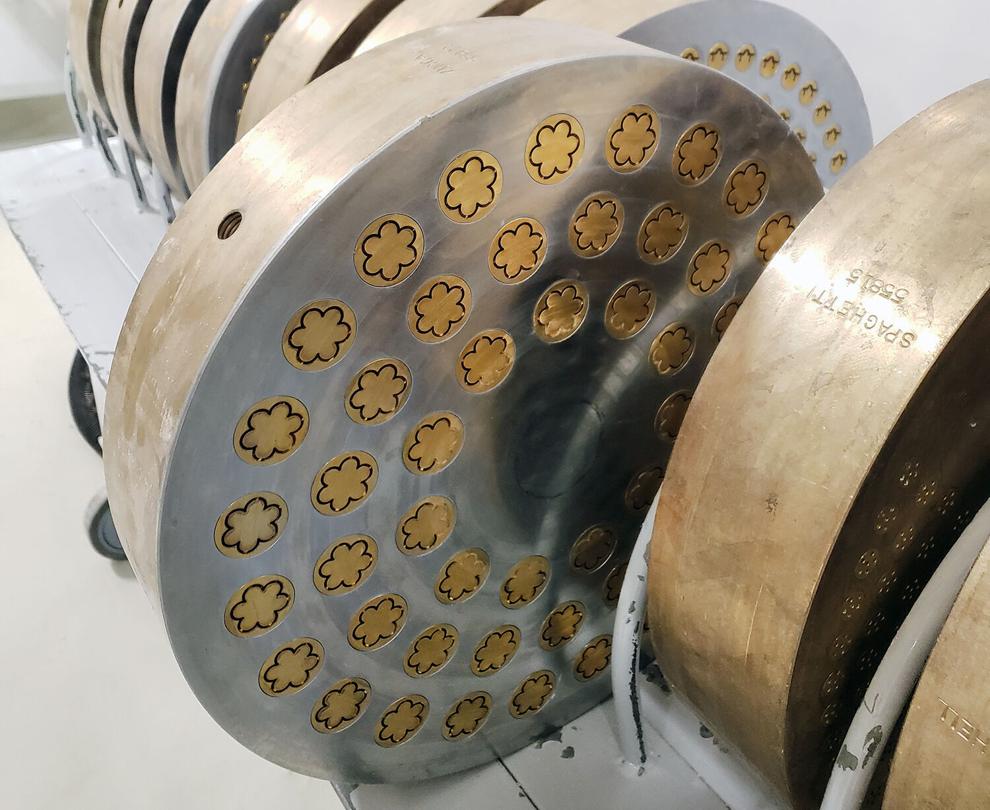 Bronze for the gold
Extruded pasta, like that made by Sfoglini, is produced when pasta dough is pushed with constant pressure through a metal plate with holes and slits drilled into it. This plate is called a die, and the holes correlate to specific designs, from bucatini to fusilli. Gonzalez says large-scale commodity pasta brands make their products at just three or four factories in the U.S. Those factories coat their dies in Teflon; the nonstick surface pushes pasta through the die with little friction.
Sfoglini uses bronze dies, which are typical of artisanal pasta making and replicate the texture that handmade pasta offers. Bronze has a higher rate of friction on the surface of the pasta, creating little crevices that allow sauce to cling to the pasta. Small letters are stamped into the side of each Sfoglini die — all made in America — indicating the design the die will produce. Heavy and costing thousands of dollars to produce, the bronze dies are critical to making Sfoglini's pasta.
"People think that the good stuff is made in Italy, and for a while it had been, because they use bronze dies. But we are one of less than 10 in this country making bronze-extruded pasta, and we're doing a great job at it," Gonzalez says. "But I think our quality is at least comparable — if not better than — to what you'd find in Italy, especially thanks to the semolina we're using."
The shape of things: Form and function
Ketchum says that though Sfoglini's shapes seem extraordinary, they are all traditional to pasta's Italian legacy. "All of the shapes we produce right now are traditional shapes. Ultimately it comes down to what's available for your equipment, since there are some very intricate shapes."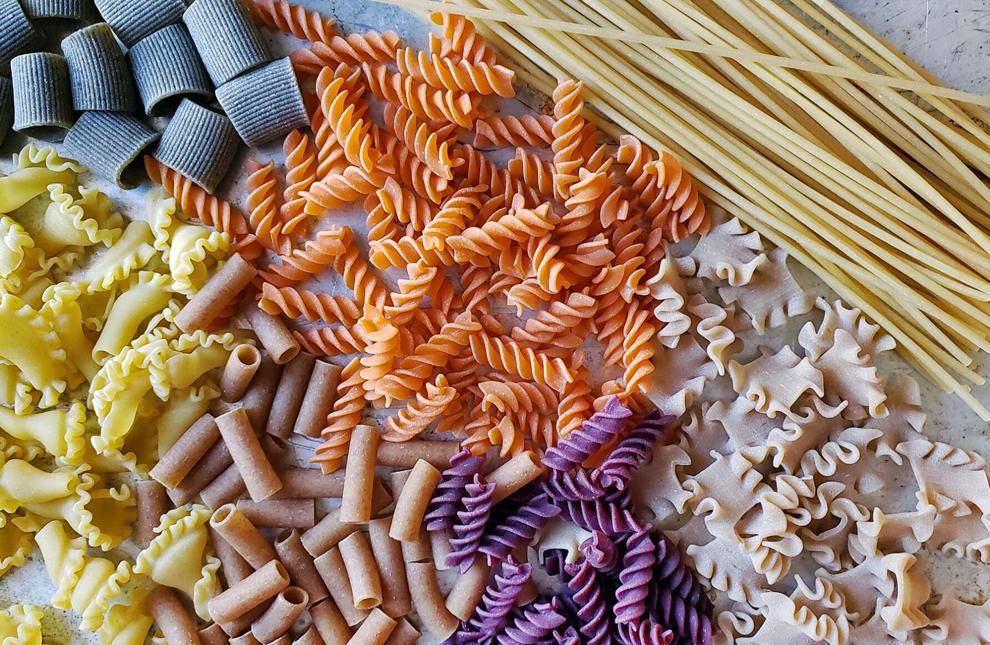 The other reason they wanted to go with these traditional shapes is because, in the beginning, they were working with restaurants that were already making their own flat noodles, so what Sfoglini offered was a complement to what the restaurants were doing. "That was our foot in the door with restaurants that made their own pasta," he says.
Gonzalez and Ketchum worked with a U.S.-based die manufacturer to design and create pasta shapes and to also go through a trial-and-error process to determine which shapes could work and which would not. "Too unique is bad," Ketchum says. It can create problems in the production process and does not always appeal to retail customers. That is part of the reason Sfoglini plays with flavors — like beet, basil and sriracha — and flours instead of designing new shapes.
How The Sporkful's Dan Pashman's new pasta shape came to be; plus, a guide to time-honored pasta shapes.
Ketchum and Gonzalez were keeping a closely guarded secret at the time of the tour and interview for this story. Soon after, they launched a new pasta shape, cascatelli, which is big news in the world of pasta, where tradition reigns. Dan Pashman, James Beard Award winner for his podcast, The Sporkful, enlisted Sfoglini to work with him on the creation, which was released last month to great acclaim after nearly three years of research and development.
Pasta for the people
Sfoglini pasta is considered a premium product, but the company believes it is an attainable, affordable luxury that should not be exclusive to monied customers. Boxes of pasta with minor flaws are donated to the Regional Food Bank of Northeastern New York, and the company is currently working with the Nourish New York program to create a line of its organic American-made pasta for food banks around the state.
That endeavor is one branch of Sfoglini's future; the company was recently acquired by an Italian fresh pasta company, a partnership that gives Sfoglini the breathing room to expand product offerings and increase production size. Their facility can produce three times the amount of dried pasta currently being made, and there is also rising opportunity to sell in new markets around the country. Ketchum says the agreement allows Sfoglini to begin importing fresh pasta.
"We're still growing into this facility, so really we just want to increase retail placements around the country. We're really still an East Coast company, and we want a larger presence throughout the U.S.," Ketchum says. The pandemic crippled the restaurant side of the business, which once claimed 35% of all sales (Ketchum says he wants restaurant sales to be 50% of the Sfoglini business), but it did allow for more retail sales, as stuck-at-home cooks looked for ways to liven up their dinnertime routines. Online sales have boomed, and Ketchum hopes that the introduction of new products keeps customers interested in Sfoglini's brand.
The backstory of the company helps to draw customers in, but the true reason for the company's success and growth is the simple fact that the pasta tastes great, providing an experience that transports the diner from their home kitchens to the flavors of a Roman trattoria or Venetian osteria. Pasta can be a simple meal offering sustenance, or it can be rife with allure. Both elements play equally into Sfoglini's ethos, right down to the naming of the company.
"I grew attached to the name Sfoglini when it was mostly for the restaurant. In the 18th century, the owner of a house or castle with a sfogline in-house knew she was worth her weight in gold," Gonzalez says. "I was really drawn to that romance and the fact that these ladies pass on the tradition. Those things resonated with us."