We may earn commission from links on this page, but we only recommend products we back.
Why trust us?

Each year, truckloads of new food products find their way to shelves near you, but which healthy eats are the keepers? Enter: The Prevention Test Kitchen staff, who gallantly read hundreds of nutrition labels and selflessly tore into over 300 packages with this set of nutritional criteria: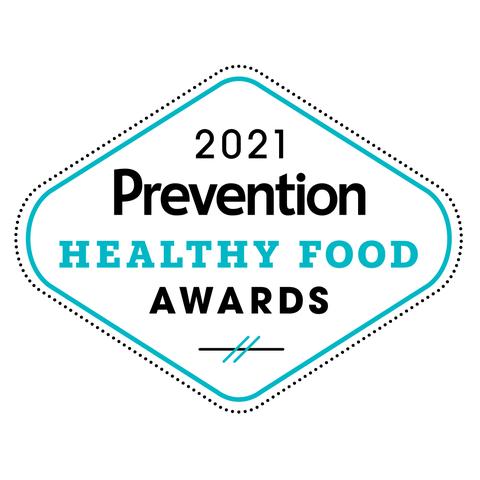 Made with real, recognizable ingredients
No trans fats or hydrogenated oils
Made with minimal amounts of sodium and added sugar
At the end of all that eating, they came up with 50+ winners that deserve a place in their discerning pantries, refrigerators, and freezers—and yours.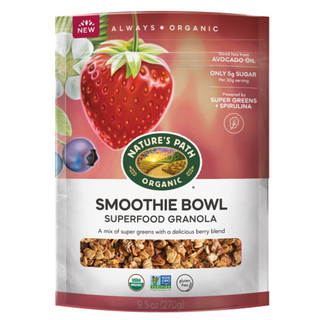 Best Granola
Organic Gluten Free Smoothie Bowl Superfood Granola
While many granolas are loaded with added refined sugars, this gets its light sweetness from freeze-dried fruit and minimally processed coconut sugar.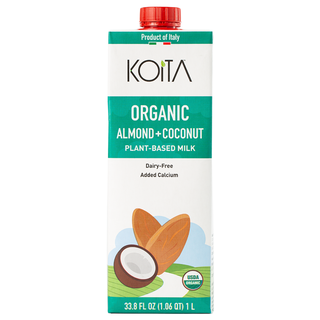 Best Milk Alternative
Organic Almond Coconut Milk (6-Pack)
Calling all latte lovers: This dairy-free milk frothed well for morning coffees and serves up 20% of your daily calcium per serving.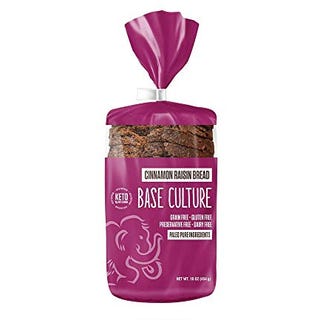 Best Gluten-Free Bread
Cinnamon Raisin Bread
Base Culture
amazon.com
While gluten-free breads can lack in texture, this loaf was a real winner, especially when toasted. Serve slices with a drizzle of nut butter for a breakfast packed with fiber.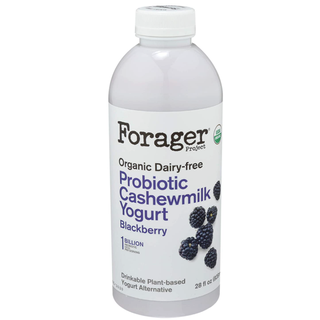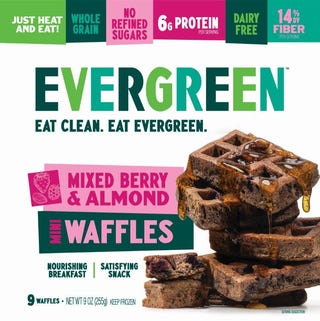 Best Flavored Waffle
Mixed Berry & Almond Frozen Mini Waffles
Evergreen
eatevergreen.com
$6.99
Kid and adult tasters alike devoured these waffles, with little pockets of real-fruit jam that add a nice sweetness. When toasted, their nutty flavor really shines.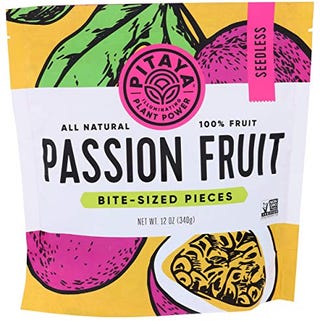 Best Frozen Fruit
Passion Fruit Bite-Sized Pieces
Pitaya
amazon.com
Stock your freezer with these one-ingredient chunks of passion fruit puree to add brightness, and 23% of your daily vitamin C, to morning smoothies. Fresh tip: You can also use as ice cubes to brighten sparkling water.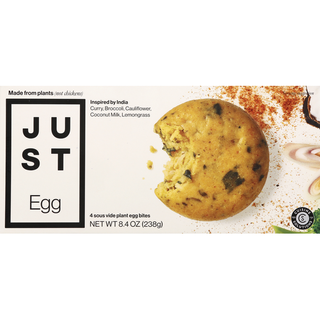 Best Egg Alternative
Inspired By India Sous Vide Egg Bites
JUST Egg
instacart.com
$4.00
Made from mung beans and flavored with curry, coconut milk, and lemongrass, the texture of these bites rivals real eggs. Heat them in a toaster oven for a light, fluffy, and hearty vegan breakfast.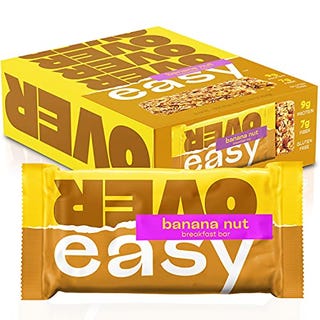 Best Breakfast Bar
Banana Nut Breakfast Bars
Over Easy
amazon.com
$28.00
These gluten-free bars taste just like banana bread and are a super-filling bite for on-the-go breakfasts.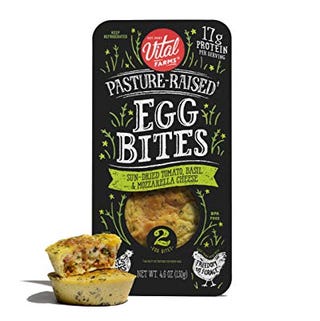 Best Egg
Pasture-Raised Sun-Dried Tomato, Basil & Mozzarella Cheese Egg Bites
Vital Farms
amazon.com
Tasters loved the classic combo of tomato, basil, and mozzarella in these on-the-go breakfast bites. Heat in the microwave in only 45 seconds for a protein- and calcium-rich meal.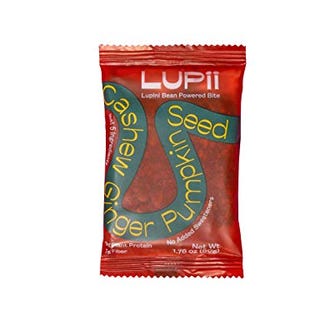 Best Protein Bar
Lupini Bean Cashew Ginger Pumpkin Seed Protein Bars
These 5-ingredient bars are made with lupini beans, which are a complete protein and a great source of fiber. The addition of ground ginger and pumpkin seeds gives them vibrant fall flavor.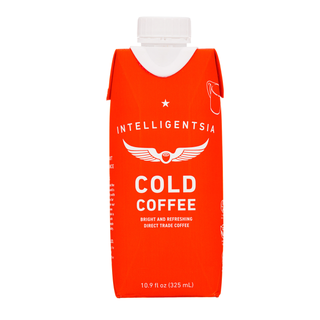 Best Coffee
Cold Coffee
Intelligentsia
mercato.com
$5.49
Stash these boxes of ethically sourced coffee in your fridge for a quick morning pick-me-up.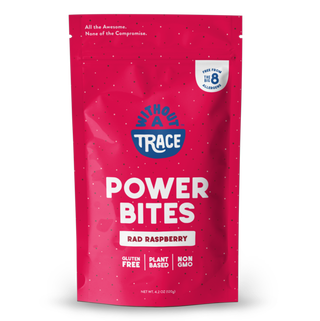 Best Bites
Rad Raspberry Power Bites
Without a Trace
withoutatracefoods.com
$7.29
We loved the soft texture of these allergen-friendly bites paired with a hint of crunch from chia seeds, a good vegetarian source of omega-3s.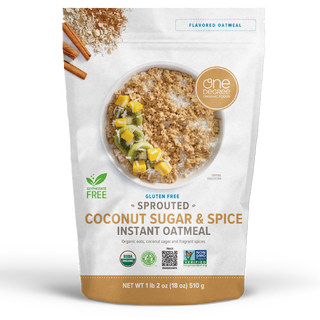 Best Oatmeal
Sprouted Coconut Sugar & Spice Instant Oatmeal
One Degree Organic Foods
amazon.com
$34.99
Fragrant cardamom and cinnamon add extra warmth to a cozy bowl of these spouted oats (great for nutrient absorption!), which get a caramel-like sweetness from coconut sugar.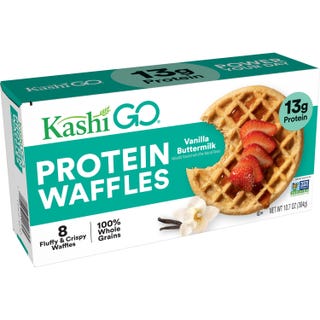 Best Plain Waffle
GO Frozen Vanilla Buttermilk Protein Waffles
With 13 grams of protein per serving, these whole-grain waffles are an excellent vehicle for any topping, sweet or savory, and have enough flavor to snack on plain.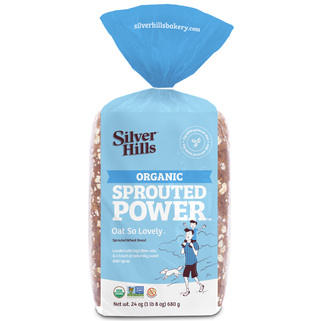 Best Bread
Organic Sprouted Power Oat So Lovely Bread
Silver Hills Bakery
instacart.com
$5.99
With 21 grams of whole grains per slice, this loaf also serves up plenty of nutrients, including selenium, an antioxidant important for immunity support.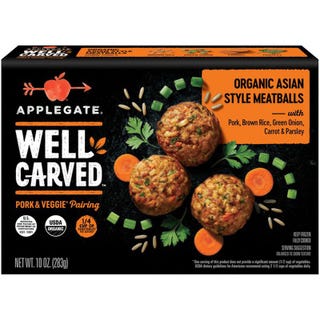 Best Meat
Organic Asian Style Pork & Veggie Meatballs
Applegate
instacart.com
$10.00
These meatballs, made with humanely raised pork, organic brown rice, and carrots, deliver 1/4 cup of veggies per serving.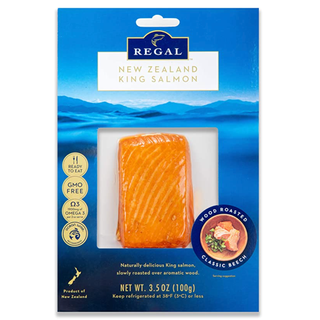 Best Fish
New Zealand King Wood Roasted New Zealand Beech Smoked Salmon
Keep these smoked fillets of sustainably raised salmon on hand to easily add a boost of protein to salads, pastas, grain bowls, and more.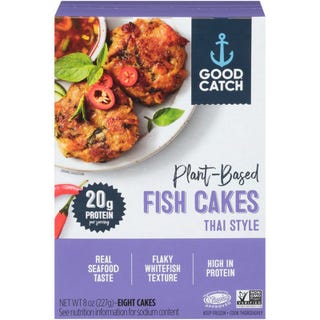 Best Vegan Fish
Plant-Based Thai Style Fish Cakes
Good Catch
instacart.com
$8.00
Tasters enjoyed these vegan cakes for their flaky fish-like texture and delicate spice that also serve up a big dose of iron, a mineral important to maintain energy levels.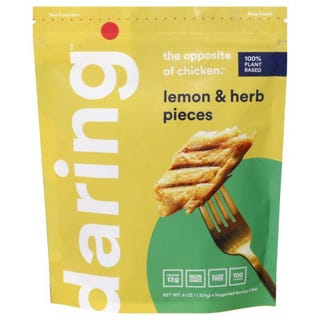 Best Vegan Chicken
Lemon & Herb Pieces
Daring
instacart.com
$8.09
With 13 g of protein and no cholesterol, these soy-based pieces are perfect to add to stir-fries, sautes, and more.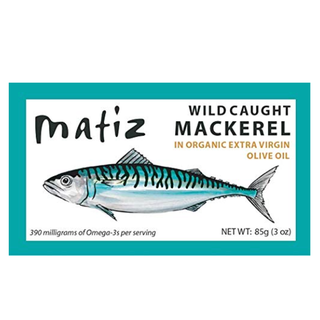 Best Tinned Fish
Mackerel in Extra Virgin Olive Oil
These very versatile wild-caught fillets are packed with protein and omega-3s. Flake over salads or pasta, or top toast with these fish for a hearty, easy meal. 

Best Meal Makers and Side Dishes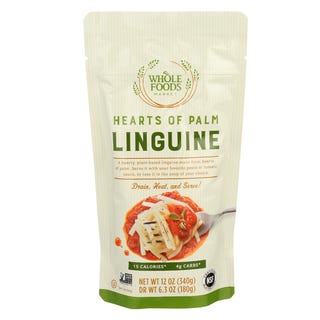 Best Pasta Alternative
Hearts of Palm Linguine
Whole Foods
wholefoodsmarket.com
$3.79
Hearts of palm, the core of a palm tree, make for an excellent sub to wheat noodles. Simply rinse and toss with sauce for a simple supper that also serves up calcium, fiber, and potassium.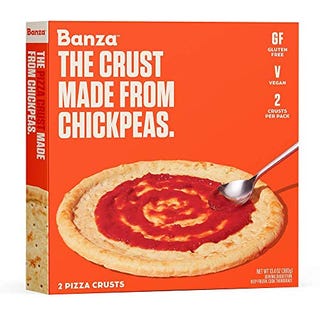 Best Pizza Crust
Plain Chickpea Pizza Crust
BANZA
amazon.com
This crust, made of chickpeas, offers a dose of protein that other bases don't have. Bake with your favorite toppings for a crunchy, fiber-packed, gluten-free pie.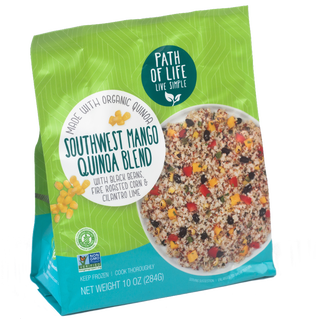 Best Frozen Grain
Southwest Mango Quinoa Blend
Path of Life
instacart.com
$4.49
Big pieces of mango give this easy-to-prep grain blend a tropical sweetness, and black beans, corn, and poblano peppers add heartiness.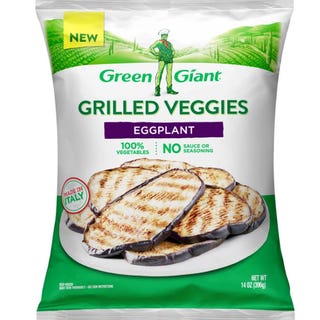 Best Prepared Vegetable
Grilled Eggplant
Green Giant
walmart.com
$4.48
If you don't have time to prepare fresh veggies, reach for a bag of these convenient charred slices that serve up all the flavor without any added sodium.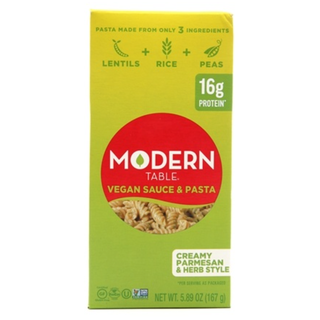 Best Boxed Pasta
Parmesan & Herb Vegan Sauce & Pasta
Modern Table
amazon.com
$24.99
In a pinch this vegan pasta, serving up 25% of your daily iron, will satisfy the whole family.
Best Sauces, Condiments, and Toppers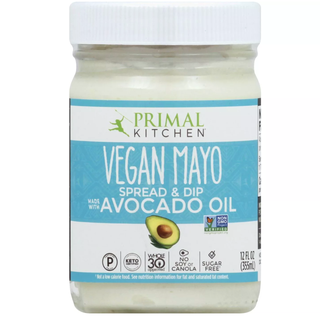 Best Vegan Mayonnaise
Avocado Oil Mayo
Primal Kitchen
amazon.com
Spread a thin layer of this 6-ingredient condiment onto sandwiches or use as the base of a dressing to add tangy, rich  (and vegan!) flavor.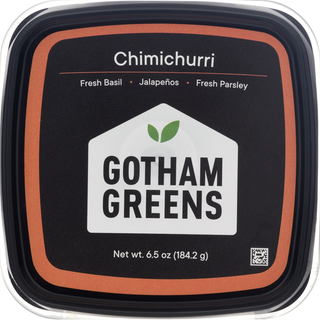 Best Marinade
Chimichurri
Gotham Greens
instacart.com
$8.79
Marinate proteins in this slightly spicy sauce, made with basil, parsley, and fresh jalapeños, for a super fast and flavorful dinner.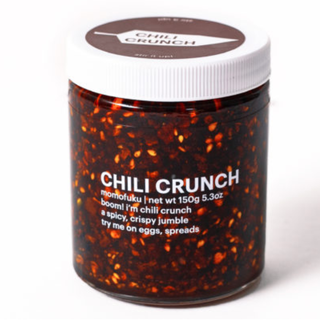 Best Spicy Condiment
Chili Crunch
Momofuku
momofuku.com
$12.00
Even the tiniest of drizzles packs a huge punch of flavor, thanks to three types of chiles, crunchy shallots, and bold garlic. Try on eggs for a low-sodium, high spice boost.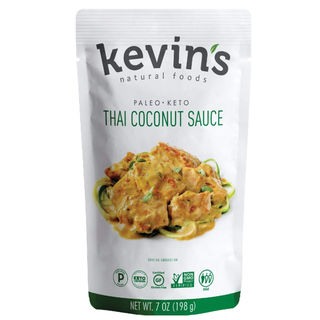 Best Simmer Sauce
Thai Coconut Sauce
Kevin's Natural Foods
amazon.com
$15.00
Sauté veggies and a protein (like chicken, beef, or tofu) with this lemongrass, coconut, and lime-scented simmer sauce for a hearty (and speedy!) dinner.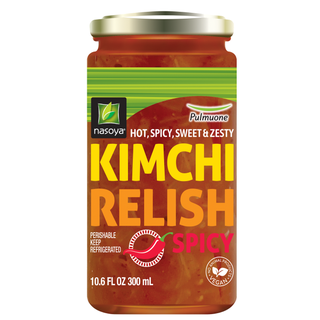 Best Kimchi
Spicy Kimchi Relish
Nasoya
instacart.com
$10.60
Add this fermented relish to your dinner routine, on sandwiches, folded into omelets, or on the side of proteins, for a gut-boosting serving of probiotics, which aid digestion.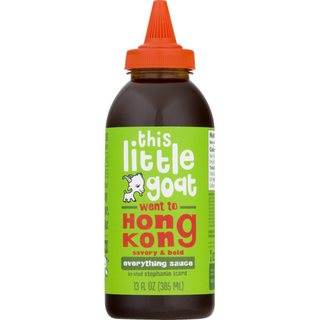 Best Drizzling Sauce
Went To Hong Kong Everything Sauce
This Little Goat
instacart.com
$8.99
A balanced combination of soy sauce, ginger, and mustard makes this sauce a savory addition to any dish, from rice to roasted vegetables.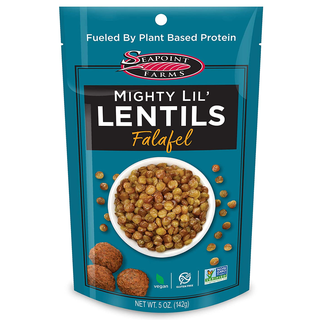 Best Salad Topper
Falafel Mighty Lil' Lentils
Seapoint Farms
amazon.com
$12.55
These legumes, seasoned with dried spices and a hint of heat, offer 5 grams each of plant-based protein and fiber per serving. Tasters used them like croutons to top salads and soups for a big hit of crunch.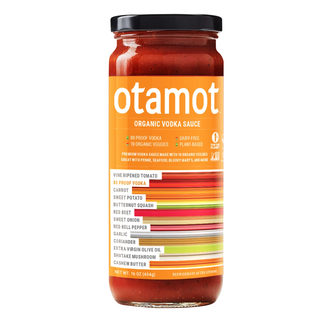 Best Pasta Sauce
Organic Vodka Sauce
A mix of ten organic vegetables, like sweet potato, squash, and mushrooms, ensures that this fresh-flavored tomato sauce is packed with nutrients, including 20% of your daily vitamin A.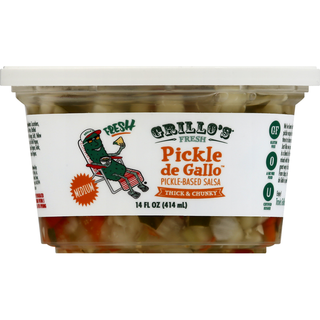 Best Sandwich Condiment
Grillo's Pickle De Gallo, Medium, Thick & Chunky
Freshly chopped pickles mixed with habaneros and jalapeños make a lightly spiced relish-meets-salsa great for topping sandwiches or scooping up with tortilla chips.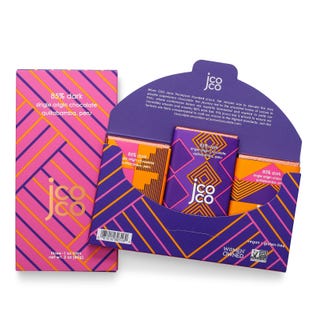 Best Chocolate
85% Dark Bar
jcoco
seattlechocolate.com
$3.00
This antioxidant-rich single-origin bar has a seriously creamy texture and dark, bold, and chocolatey flavor.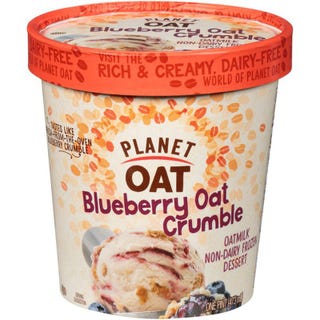 Best Frozen Dessert
Blueberry Oat Crumble Non-Dairy Frozen Dessert
Planet Oat
instacart.com
$5.19
Each pint boasts a bright blueberry swirl and chunks of spiced oatmeal streusel that make your taste buds feel like they're diving into a home-baked treat.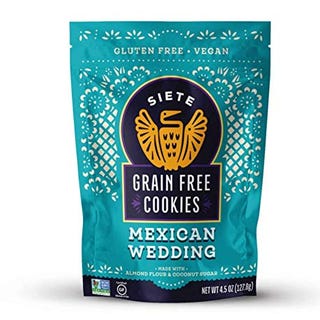 Best Cookie
Grain Free Mexican Wedding Cookies
At six cookies per serving, these crisp cinnamon-spiced almond-flour and pecan bites with a classic powdered sugar coating are sure to satisfy your sweet tooth.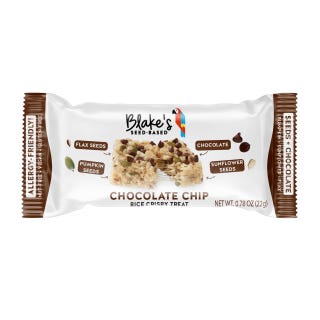 Best Bar
Chocolate Chip Rice Crispy Treats (3 Boxes)
Blake's Seed Based
amazon.com
Flax, pumpkin, and sunflower seeds add crunch and elevate these desserts beyond the nostalgic treats from childhood.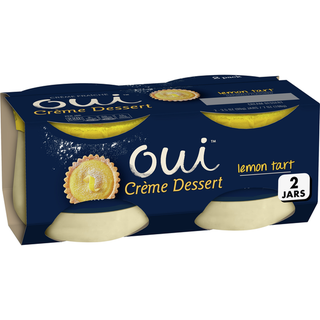 Best Creamy Dessert
Lemon Tart Creme Dessert
Oui by Yoplait
instacart.com
$3.08
These jars get their tart lemon flavor from citrus puree and serve 8% of your daily calcium per serving. 
This content is created and maintained by a third party, and imported onto this page to help users provide their email addresses. You may be able to find more information about this and similar content at piano.io
---
Advertisement – Continue Reading Below
---
---
---
---
---
---
---