San Francisco family-run Italian dining institution Villa D'Este is
Sad news for Italian food fans who loved dining at a modest yet beloved restaurant near the Stonestown Mall in the Lakeside Village neighborhood. After 44 years, Villa D'Este at 2623 Ocean Avenue will be closing its doors for good. The announcement was recently made restaurant's website and caught many customers off guard. The family-run institution had built up a loyal clientele who had been enjoying the traditional dishes for decades.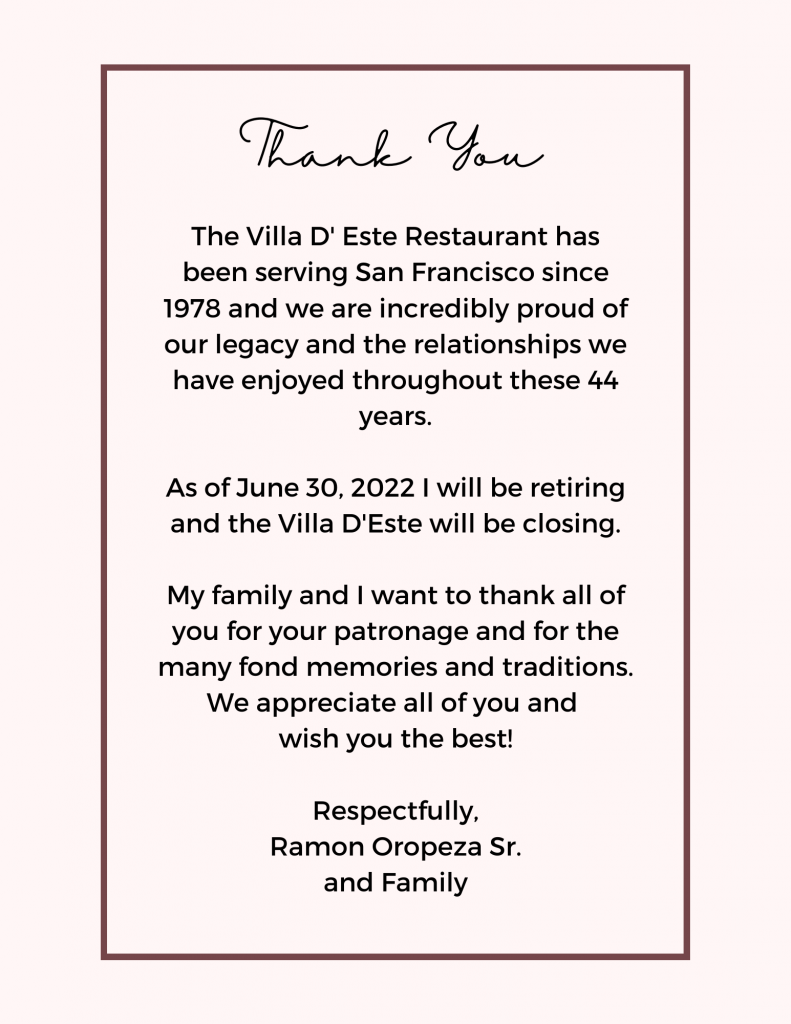 Photo Credit: Villa D'Este
The owner has been working at Villa D'Este pretty much non-stop since it opened in 1978. "After 44 years, I'm retiring. I've been without time off for the past 61 years, so it's time to hit the road. I have a ranch up in Vacaville. So I'm perhaps going to make some wine. I'm going to enjoy that, and I have horses," owner Ramon Oropeza Sr. told SFGate. Ramon's retirement is the primary reason for the closure, and it appears keeping the restaurant going was just not feasible. "It's very bittersweet. I wish the dynamics of San Francisco were different. It's very tough for small businesses in San Francisco. It was really my grandfather's vision to migrate here and acquire property, and also sustain ourselves in the Bay Area." the owner's granddaughter Ashley Oropeza told SFGate.
Ashley says many of the workers at Villa D'Este are part of the family. "I've been there since I was 12, and I have first cousins. We all grew up working throughout high school and college. My uncles and aunts also, there are seven of them, they all grew up in the business," she told SFGate. The owner's announcement included a heartfelt message to customers that he grew close to over the decades, saying, "My family and I want to thank all of you for the many fond memories and traditions. We appreciate all of you and wish you the best!"
Customer Christopher Davies had this to say to SFGate: "Unchanged in decor in all those years, and not known for gourmet fare, the restaurant is a neighborhood institution among the senior neighbors." Ashley says that the customers may miss the camaraderie more than the food. "Watching families grow up and being a place of joy and memories, that's what I'm going to miss because we had all walks of life come in. Being a place where people go for happiness, that's unique," she told SFGate. The final dinners at Villa D'Este will be served on June 30th from 4 to 8 p.m.