This Countertop Oven Is Proving to Be the Best
Replacing a full-size range and stove is a big ordeal, even if the price alone isn't prohibitive. Adding a countertop oven, on the other hand, is manageable for most people. My family got hooked on having one a few years ago because it made cooking a lot of meals faster and more convenient. It took the place of a toaster, air fryer and most other miscellaneous standalone cooking devices. My latest obsession in this space is the June Oven, a smart countertop oven with all the bells and whistles you could hope for.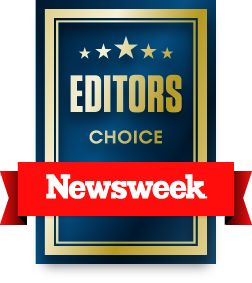 The June Oven can bake, but it can broil, air fry, dehydrate, toast, slow cook and roast. It also has settings for reheating leftovers, keeping food warm and grilling. Its smarts include Wi-Fi and a connected mobile app. You can start and stop the oven remotely. You can even view your food remotely using a camera inside the oven. (Yes, a camera is built in.)
Not everyone wants or needs their oven to be smart—myself included. But, once the seal is broken and any of these features are added to provide a connected experience, they need to be implemented well. In the case of the June Oven, my experience has been wonderful. If you're looking for a smart way to cook or prepare meals, this is my current recommendation.
TL;DR
Pros:
Sleek oven design with an easy-to-use touchscreen
Mobile app helps with recipes and can control the oven remotely
Cons:
Camera seems under utilized
Guided recipes feature requires an annual subscription
Buy at June.
Why the June Oven Is the Future of Cooking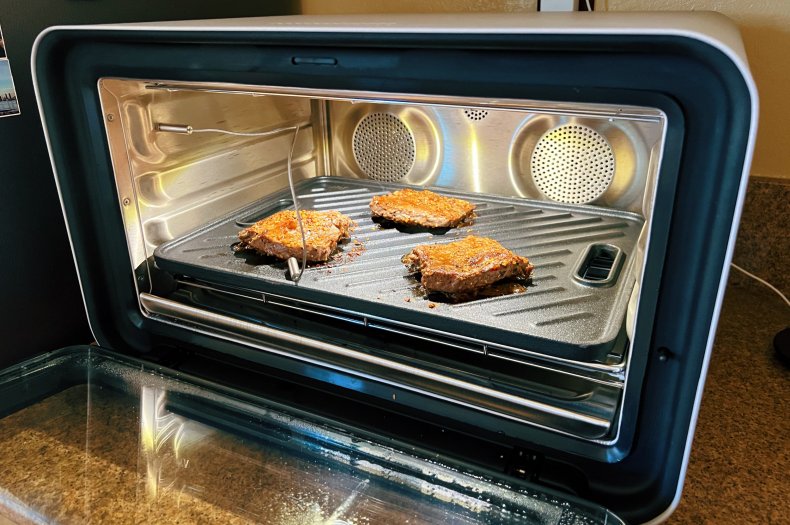 Although I'm interested in a smart oven to help me cook meals with smart recipes, that's not the only aspect I want it to be smart about. First and foremost, I want technology to increase convenience in the kitchen. June does that with things such as remote start and timely notifications. It also gets more of the details right than the competition.
Another option on the market, the Breville Joule Oven Air Fryer Pro, is compelling because it's a capable countertop oven with Wi-Fi connectivity. Unfortunately, its smart connectivity is mostly wasted on very limited uses, without the ability to preheat the oven from your phone, even while in the same room or house.
The Tovala Smart Oven is worth a look, too, but it's heavily focused on being smart about both its own meal-service food and ability to adjust the temperature without human intervention. Both of these options have their place, but I think most people will ultimately want more from their smart appliances.
In comparison, I was able to preheat the June Oven remotely from my phone—no touching the oven required. I could also start recipes or other cooking programs through the June app.
Although other ovens will send you a notification on your phone when preheating is done or the timer is finished, I really enjoyed June's optional notifications that will alert you when your food is nearly done. In the past, I would put food in the oven and go do something else. When the food was finished cooking, I'd often be in the middle of something, and it would overcook. June's notification will give you a heads-up that the food will be done in about a minute. I loved it. If you don't need that extra warning, it can be turned off.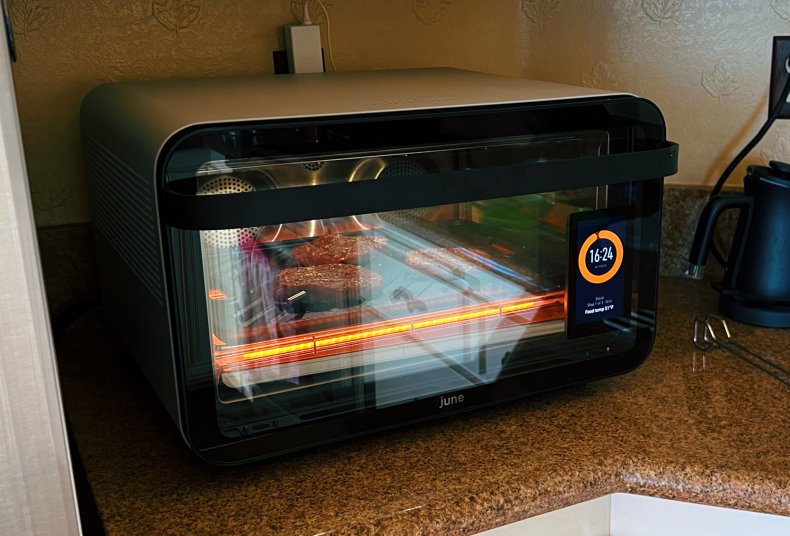 The oven itself has a touchscreen that offers its range of cooking functions, plus it can apply its own temperature preference for heating frozen foods or other items it knows about. The screen is sleek and uses its real estate to display what pans to use on which levels when you select a specific dish to cook.
My family, including my young kids, had no trouble using the oven and getting it to do what they wanted. Most of them didn't even ask about it; they simply used it as if it had been there the entire time. There are even programs for Whole Foods and Trader Joe's brand foods. If you shop at either of those stores, the temperature and timing will be dialed into the June perfectly.
There are places inside, on either side of the oven, to plug in a food probe. This allows the oven to know and display the internal food temperature. While I haven't needed to use the probe on too many items, it has made cooking chicken and meat that much easier.
Food I cooked in the June Oven tasted nearly identical to food cooked in other countertop ovens like ones from Breville. It got hot in the same timely manner and, as far as I could tell, heated evenly across the entire pan. The muffins my daughter and I made were lightly browned on top and moist inside. I used the same temperature and time setting for frozen pizza as I have in the past, and the results were as expected—crispy crust and evenly melted cheese. Across a wide range of foods, both automatic controls and manual baking, I have yet to be surprised or disappointed by the taste of the food I've made in this oven.
Wish List
Discovering there is a camera inside the oven was a bit of a shocker—at least it was the first time I read about it. It's a novel feature that captures the futuristic nature of the product. You can live-stream video of your food cooking. If you don't want to watch it live, you can also check out the history tab inside the app to see a time-lapse video of the food being prepared. It has been really neat to be able to peak in without opening the door. Supposedly the camera can also recognize food, but this functionality is largely invisible and without an on-command setting for this feature. So I'm not sure how much this recognition helped me during my use.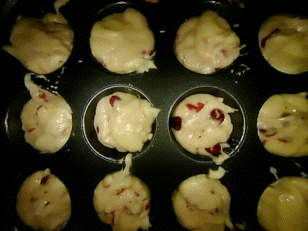 The June Oven keeps a history of food you've cooked, complete with time-lapse videos.
TYLER HAYES
This brings me to a few wishes I have. I would love June to show more insights and notes about the camera. If it's identifying food on its own, I want to know about it. It would be neat if one of the cook functions were Identify, so you could confirm its selection and let it automatically do the rest. That would be really smart.
I wish there were a few more customizable options in the settings, too. As it stands, there are three basic beep sounds to choose from. But why aren't there a dozen? I would love the oven to make noises arising from popular songs, shows or movies.
The same thing applies to the touchscreen. Currently, it's minimal and sparse, which I consider a benefit for a default state, but I'd love to see a few options to customize the screen when the oven is not in use. There could be some neat screensaver-like graphics including weather.
Items to Consider With Smart Appliances
With all products, it's a good idea to consider where the company makes its money. This will help you decide if it's something that will cause issues in the future. For example, with June, you first need to choose which oven package to buy. The oven is the same in all three choices, but the number of accessories and software are different. Both the June Oven Plus and June Oven Premium come with a free year of its Premium App Membership (currently $9.99 per month).
After the free year, you'll need to pay a monthly fee for guided recipes. Some are free in the app, but not all of them. Interestingly, Android users will need to pay for the Premium App Membership to get temperature graphs, time-lapse videos and custom cook programs, while iOS users get those features for free. I like the guided recipes, but I'm not enthusiastic about paying $120 a year for that ability. At the base price of $599, you still get a smart oven, but it's not at its smartest.
Similarly, its different pans and accessories are used to unlock different cooking functions. For example, the June Oven Premium comes with an enameled grill-griddle that allows you to grill inside the oven. (I made steaks using the grill setting, and they turned out fantastic.) If you don't have that or an air fry basket that fits in the oven, then the food that can be cooked with those options will be limited.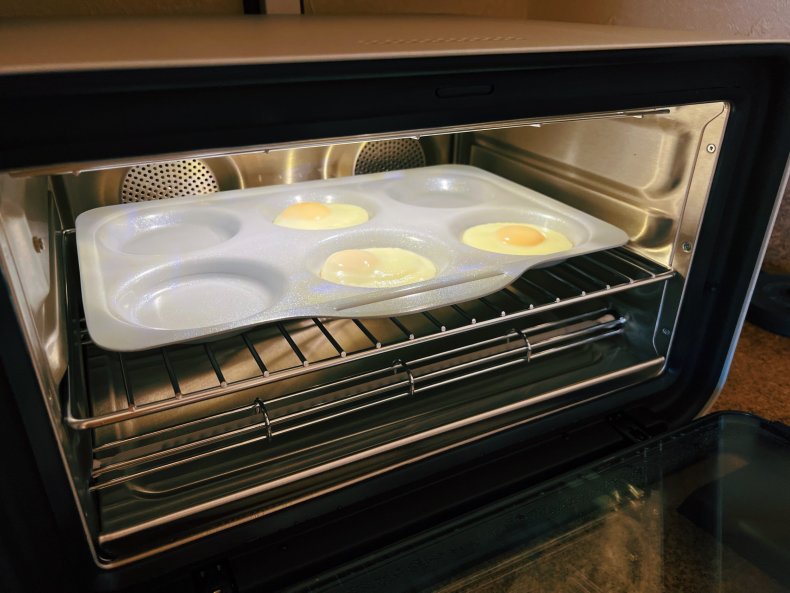 Should You Buy the June Oven?
To get the full June Oven experience, you're looking at paying $999. This price isn't too far off from a new stove and range. Is it worth it? Is the June Oven a good value? I've been very impressed with its performance. I've also been impressed with its smart features. It advertises being a future-forward product, and I think it is.
My biggest frustration with supposedly smart devices is when functionality is ignored or lazily limited. June seems to understand how it can make cooking easier in a world in which everyone uses a smartphone. It's the minor details of thoughtful notifications and delightful interface design that I've enjoyed so much. I'm probably not a better cook when using the June Oven, but it has taken out some stress and made meal time a little easier.
Buy at June from $599.
Newsweek may earn a commission from links on this page, but we only recommend products we back. We participate in various affiliate marketing programs, which means we may get paid commissions on editorially chosen products purchased through our links to retailer sites.