Wavy Tingly Momofuku Noodles with Short Rib Kalbi
For a quick weeknight meal or a weekend lunch with a slight kick, this fun dish stars Momofuku noodles and flash-grilled short rib kalbi. It's a happy marriage between Taiwanese and Korean, and it's absolutely lovely.
We all know that feeling of being completely lost, without any idea what to cook for dinner. Usually, the lack of ideas comes paired with lack of time – so having a couple of simple 30 minutes dishes ready to go at a moments notice is a great way to cut yourself some slack, while at the same time keeping the family happy and well-fed. This is one of my favorite go-to dishes when I find myself in that familiar situation.
MOMOFUKU NOODLES
Chef David Chang and the crew behind Momofuku launched their first ever line of noodles back in 2021, and they quickly became a great go-to source for quick, delicious meals for a lot of ambitious home cooks that would otherwise frown upon anything that could be perceived as "instant".
One of the main reasons for that, is that unlike many other noodles on the market, Momofuku's noodles are air dried, never fried or frozen. They are made only from wheat, salt and water, have no artificial flavoring or preservatives, and pack about 10 grams of protein per serving.
Essentially they are "better for you", "better tasting" versions of the cheap supermarket instant noodles we all know (and honestly, sometimes love).
The reason I'm obsessed with these noodles, is that they are ultra convenient to whip up whenever creativity fails, but you can also build them out with toppings and sauces that you love if you feel like upping the ante a little and make them even more exciting.
FLAVORS
In the current Momofuku Noodle line-up, you can choose between three pretty great flavors.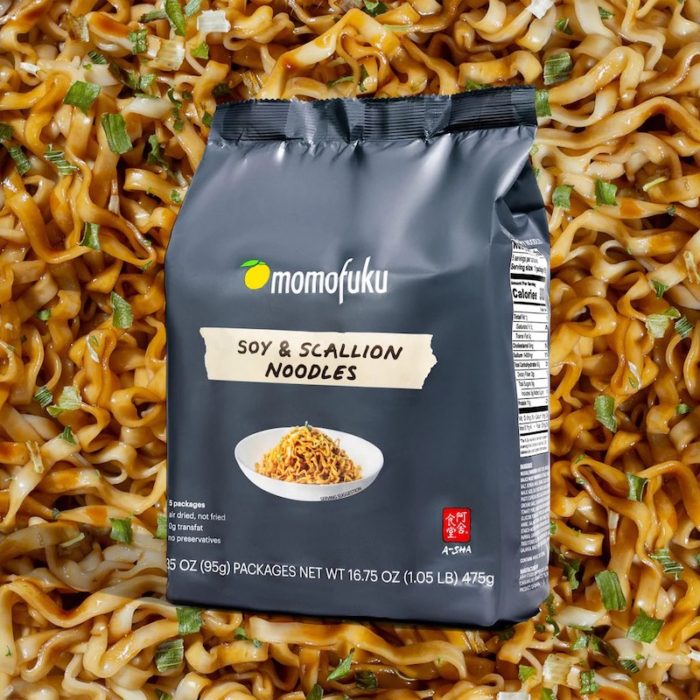 Soy & Scallion Noodle
A base of soy sauce and sesame oil creates the perfect balance of salty, sweet, and savory flavors.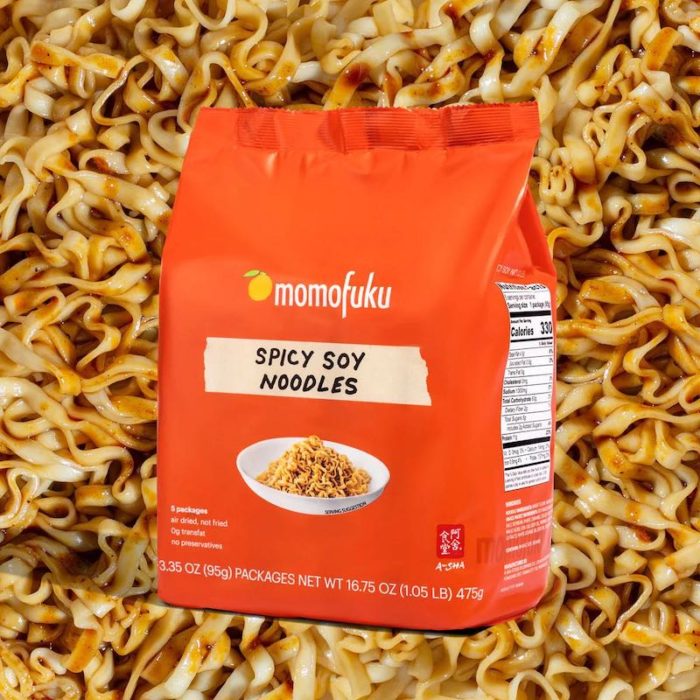 Spicy Soy Noodles
A punchy blend of soy sauce, chili, and sesame oil makes a perfect combination of savory and spicy flavors.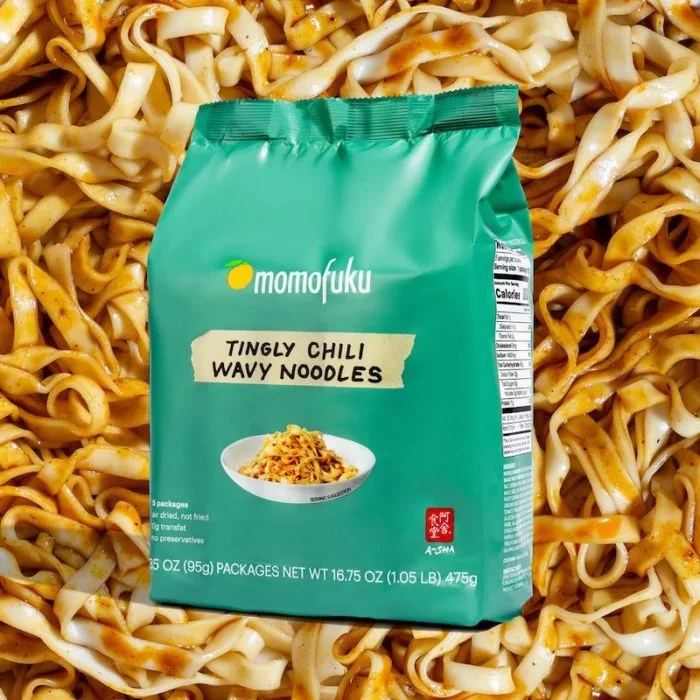 Tingly Chili Wavy Noodles
An aromatic blend of chili paste, Sichuan spices and sesame oil builds to a mix of savory, spicy, and tingly flavors.
Now, today, we'll be cooking with those last ones – the tingly wavy noodles. They come individually packed in portions, so if you are two persons – you'll just break out two packets. Inside each packet you'll find the noodles, as well as a small pouch containing the slightly spicy sauce. Unlike instant ramen noodles, you won't add this pouch to the water – but rather mix it into the noodles after boiling them. For some of the flavors, there will be more than one pouch – but the tingly wavy ones just have one.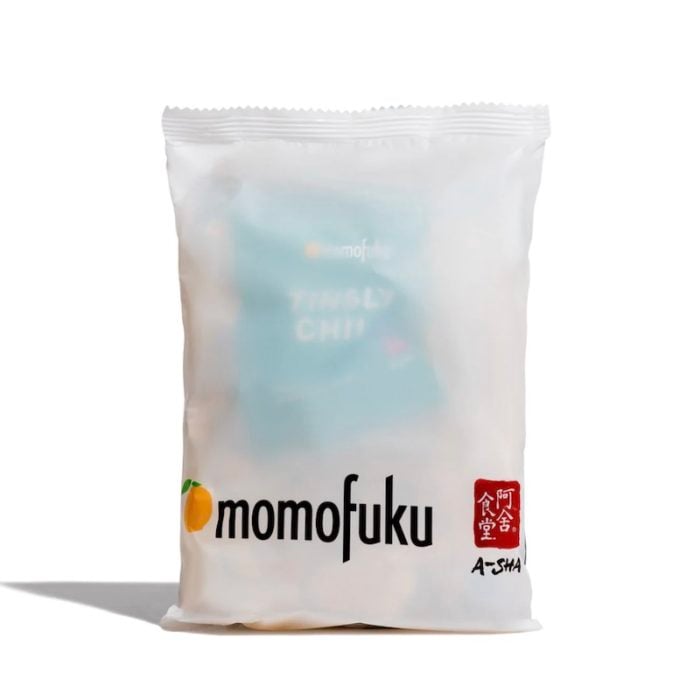 MEAT AND VEGETABLES
This is where you can take your simple noodles, and turn your dish into a restaurant quality experience. Whatever you have in your fridge, and whatever your heart is set on works well.
SUGGESTED PROTEINS
– Grilled chicken thighs, marinated in oyster sauce and grilled until crispy, then thinly sliced.
– Grilled prawns, dusted with garlic powder, and mixed with Korean Gochujang chili paste.
– In this recipe, I chose some marinated short rib kalbi – the thin, Korean boneless rib that you grill over very high heat until it crisps up on the surface and still keeps the sweetness from the marinade. I find this works so well with the flavors of these noodles.
SUGGESTED VEGETABLES
– Thinly sliced carrots, flash cooked in a wok, always a great way to add a little bit of texture to your noodle dish.
– Sliced mushrooms, adds umami flavors and kicks up the nutrition level.
– If you feel like you want to spice things up, add some finely chopped jalapeño to the final dish.
– Here, I'm using thinly sliced red onions and top the final result with some sliced scallion.
MARINADE
– You can absolutely make your own Kalbi marinade – here's a great recipe – but we're going for a quick fix today, and I'm using store bought Korean BBQ sauce as a marinade for this dish. I'm not ashamed of it!
So basically, we're talking about a recipe with just a handful of ingredients (unless you make your own Kalbi sauce of course), and this makes dinner prep easier than almost anything.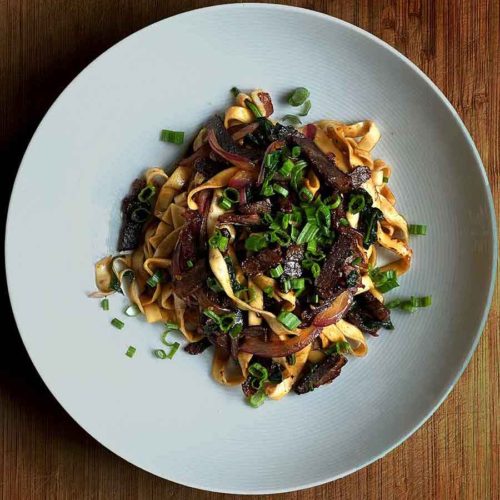 Wavy Tingly Momofuku Noodles with Short Rib Kalbi
A quick weeknight meal that packs a punch. Featuring Momofuku noodles and grilled Korean short rib, this is sure to become your go-to dinner when you don't have time for hours of meal prep.
4

packs

Momofuku Wavy Tingly Noodles

1

cube

chicken bouillon

2

tbsp

sesame oil

1/2

lb

Korean short rib kalbi

(thin short ribs)

1/2

cup

Korean BBQ sauce

1/2

red onion

finely sliced

1

bunch

scallions

chopped
Marinade the short ribs in the Korean BBQ sauce for at least 20 minutes. You can also opt to buy marinated short ribs from the supermarket, in which case you don't need to let them marinate additionally.

Grill the short ribs on high, or cook them in a skillet over high heat for about 3-4 minutes on each side. Leave to rest for about 5 minutes. Slice thinly.

In a large pot, bring water, chicken bouillon and half the sesame oil to a boil. Add the noodles, and boil for 4 minutes.

As the noodles are boiling, heat up the rest of the sesame oil in a skillet, and cook the red onion and sliced short ribs quickly – about 1-2 minutes. Remove.

Drain the noodles, and add to the pan with red onion and short ribs. Add the noodle sauce packets to the pan. Mix well until everything is coated.

Top with scallions, and serve immediately.