Twenties: Uniquely Indonesian desserts worth savoring – Food
Yohana Belinda (The Jakarta Post)

Malang   ●  
Wed, March 30, 2022

2022-03-30
14:44
0
22dc95a23fb944820adae5904f4e61ec
1
Food
Twenties,Best-20,dessert,Indonesian-dessert,sweet-tooth,food,culinary
Free

Twenties' is a new column where contributors offer top 20 lists of anything and everything of interest, from food and history to pop culture and lifestyle items.
Indonesia's cultural diversity means the country has a variety of desserts to delight in. Here are 20 must-try sweet treats to enjoy at your nearest restaurant or warung.
1. Martabak manis 
Indonesian desserts aren't always served cold. Martabak manis (sweet martabak) is sometimes described as similar to a Western pancake. What makes it so delectable is the mix of savory and sweet flavors. The sweetness comes from condensed milk and the saltiness from margarine or butter. The healthiest meal it is not, but there's no denying its unforgettable taste.
2. Cendol
In 2018, CNN listed cendol as one of the best drinks in the world. It is made of green rice-flour jelly served with palm sugar syrup, coconut milk and jackfruit. Originating from Java, cendol's refreshing taste comes from the basic mashup of the palm sugar syrup's sweetness and the savory coconut milk. 
3. Biji salak
This spherical dessert made of sweet potato is served with coconut milk and palm sugar syrup. It is called biji salak (snake fruit seed) because of its resemblance to the fruit's seed. It has a chewy, soft texture and is usually served during Ramadan as takjil, a light snack eaten to break the day's fast. 
4. Ronde
Ronde is best served during the rainy season because of its warmth and strong ginger tang. The beverage consists of a sweet ginger infusion with chewy rice-flour balls filled with crushed peanuts. Ronde can be found at street food stalls across Indonesia. 
5. Angsle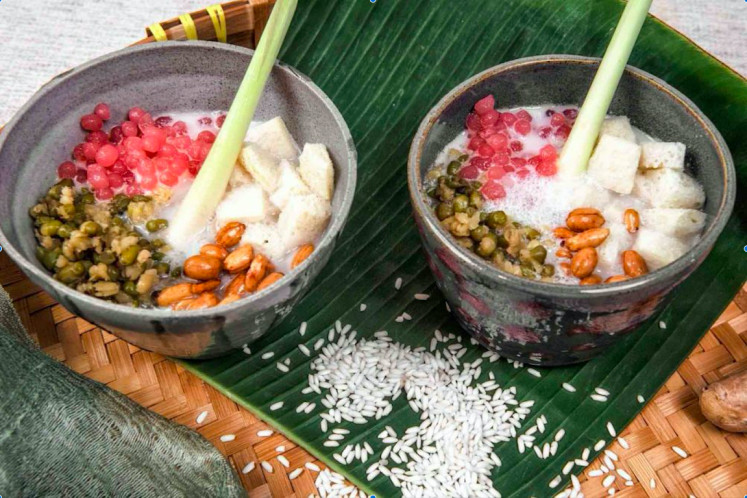 For a rainy day: With a combination of ginger and coconut milk, "angsle" has a unique sweetness and warmth that is perfect for the rainy season. (Courtesy of Asian Food Network) (Courtesy of Asian Food Network/Courtesy of Asian Food Network)
Ronde stalls are also bound to serve angsle. Angsle is mild compared to the intense gingery warmth of ronde. Served with a warm pandan-infused coconut milk base, angsle is topped with bread, mung beans, small tapioca pearls, peanut and petulo, a traditional snack made of tapioca flour and rice flour. In some cases, ginger can be added for a bit more of a kick. 
6. Klepon
Klepon are mochi-like rice balls with palm sugar syrup inside and are a type of traditional Indonesian kueh (cake). The dough of the dish is usually made of glutinous rice flour infused with pandan and later sprinkled with grated coconut. The dish is popular across Java and can be found at traditional markets and food stalls. 
7. Kolak
Kolak is a coconut milk-based dish that is cooked along with pandan leaves and sugar. It is served with banana, pumpkin or sweet potato toppings. Traditionally, kolak is served warm, but ice can be added to make the beverage more refreshing. During Ramadan, it's also a very popular popular takjil.
8. Cenil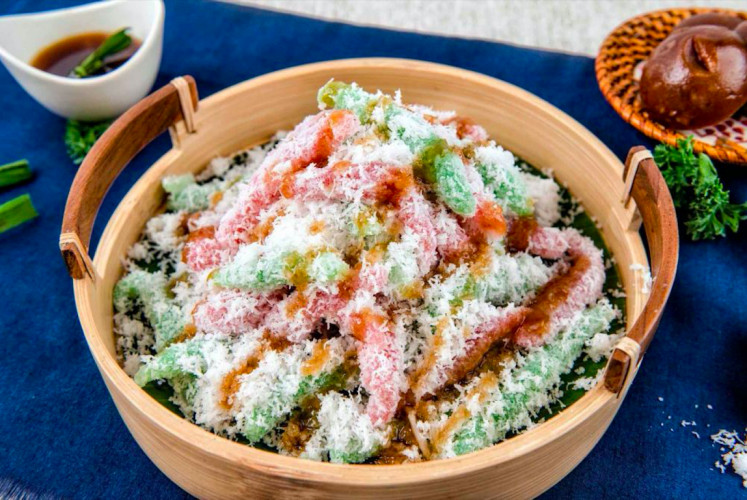 Long history: "Cenil" has a chewy texture. It's said to have been around since the 8th century. (Courtesy of Asian Food Network) (Courtesy of Asian Food Network/Courtesy of Asian Food Network)
Cenil comes in colorful forms such as pink or green. Made with tapioca flour, cenil is served with a palm sugar syrup drizzle. It's not hard to find cenil at traditional food vendors these days, and people sometimes serve it at family events like birthdays or weddings. 
9. Serabi
Serabi is another Indonesian pancake. There are many kinds of serabi in Indonesia, including the two most popular: serabi solo and serabi bogor. 
Serabi bogor is made with rice flour and coconut milk and is served with golden brown coconut sugar syrup. In Serabi solo, the dough is less cooked, creating a thin, crispy crust and soft center that has a rich coconut milk flavor. They are served with toppings like cheese, chocolate and peanut. 
10. Putu
Putu is a steamed pandan cake filled with palm sugar and made of rice flour infused with pandan. Traditionally, putu is steamed inside bamboo tubes. The dish has been around for centuries in Java and is said to have originated in the Mataram kingdom. It is also said to be influenced by Chinese snacks called xian roe xiao long from the Ming Dynasty.
11. Dodol
Dodol, a toffee-like dessert from West Java, is usually made of glutinous rice flour, coconut cream and palm sugar. It is available in many flavors, like durian, strawberry and chocolate. 
The dish has also been adapted by other countries across South East Asia. According to the book Serendipity by Andrew George, the dish was brought from Indonesia to the other Southeast Asian countries like Sri Lanka by migrants.
12. Es Teler
Es teler is a refreshing beverage consisting of various components like jackfruit, avocado, coconut meat, grass jelly, shaved ice, coconut milk and sweet condensed milk.  It is believed that the dish was created by Hj. Samijem Darmo Putro and Tukiman Darmowijono in the 1960s. 
Fans tend to add their own favorite fruits according to their liking. 
13. Kue Lumpur
Kue lumpur (mud cake) is a traditional Indonesian snack made with coconut milk, potatoes, wheat flour and eggs. Usually, it comes in the form of a thick disk with raisins or coconut as a topping. 
The traditional snack is inspired by a Portuguese tart called pasteis de nata, which has a custard filling. Kue lumpur can be found at many traditional food stalls.
14. Wajik
Kue wajik is a traditional snack in the shape of a diamond and is made of glutinous rice flour, brown sugar or granulated white sugar and grated coconut. It is said to have been around since the Majapahit era and is readily found in East and Central Java. 
It is also believed to be a good luck token for betrothed couples. The stickiness of the snack is said to symbolize that the groom and bride will "stick" together until the end. 
15. Dadar gulung
Dadar means omelet, while gulung means rolled. Usually, dadar gulung is filled with grated coconut that has been cooked in a palm sugar sauce. Today, dadar gulung is found at warung and traditional food stalls. 
16. Rangin 
Rangin is a traditional snack made of coconut and a starchy batter cooked in a special mold in the shape of a moon. Referred to by some as coconut waffles, rangin is named differently in different regions. For example, people in Makassar call it kue baroncong, while people in Bali call it kue haluman. 
Kue rangin has various toppings, such as palm sugar, cheese and chocolate. These days, the snack can be found through online food delivery services or from street vendors.
17. Bubur Sum Sum
Bubur sum-sum is also known as Indonesian rice pudding. Consisting of rice flour with palm sugar syrup on top, bubur sum-sum is usually served during special events such as weddings with the intention of making sure the couple's marriage life runs "smoothly", like the consistency of the dish. 
The dessert has been around since the colonial era, during which many Indonesians struggled find enough rice to feed their family. As a substitute, they sometimes served bubur sum-sum. 
18. Jejongko
Jejongko is a beverage from Bandar Lampung with influences from Chinese culture. Jejongko is made of glutinous rice flour, starch and suji leaves and is served with palm sugar syrup. The dessert is usually served during Ramadan as takjil. 
19. Nagasari
Nagasari is also known as steamed Javanese banana cake. Nagasari has a chewy texture from a combination of rice and tapioca flour and also has sweetness from the banana that complements the savory notes from the coconut milk.
Nagasari can be found at stalls that sell traditional snacks. 
20. Es Pisang Ijo 
Es pisang ijo is a beverage originating from Makassar. A banana is coated with a batter that has been dyed with green food coloring – hence the name pisang ijo (green banana). Usually, the dish is served along with bubur sum-sum and tapioca pearls.